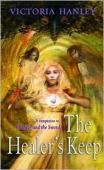 The Healer's Keep
by
Victoria Hanley
Published by
Laurel Leaf
in 2005
Genres:
Fantasy
,
YA
Pages:
407
Source:
Library
Goodreads
Maeve is an unmarked slave, sold to a cruel master and forced to flee across the country. Jasper is lowborn free, and has always been good at keeping his head down, until one night he takes in a beautiful woman he can't get out of his mind. Sara and Dorjan are new students at the healer's keep, both named with gifts that haven't been seen for hundreds of years. Together they must defeat the Shadow King and save the Healer's Keep from total destruction.
Review:
Wow. I know it's already been a week since my last review (sorry about that – life aka moving twice, a wedding gig and deadlines for other projects got in the way) but this book was worth taking my time with. It surprised me in so many ways and yet looking back, I should have seen them coming.
One of the things I loved was the characters. They were extremely vivid in my mind. I could see Maeve serving Lord Morlen, and hear her beautiful voice as she talked to Jasper. I felt Sara's pain at Bern's betrayal and her own stupidity. Each character caught and held my interest for the entire story.
But the main thing I liked about this book was that it felt like high fantasy, but was much more accessible. If you've ever read JRR Tolkein or Robert Jordan and given up because it got too complicated, then this is the novel for you. For most of the book Hanley maintained several different story lines jumping between them every few chapters. The difference is that Hanley's stories are easy to remember and there aren't so many different storylines that you lose track of what happened to who. At first it is a little difficult to see how the stories relate, but that is quickly solved, and I was soon drawn into trying to figure out how she was going to join the two stories up, without having the characters completely miss each other.
So overall, I would definitely recommend this novel to anyone who enjoys fantasy novels.
This may be it for reviews for a short while, as I will be traveling for the next two weeks without internet. However, I will write up reviews of anything I read and post them as soon as I have internet again.
Thanks for reading!
~Anne