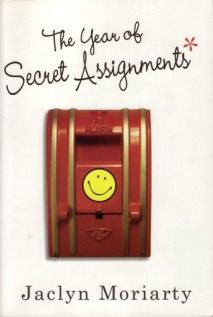 The Year of Secret Assignments
by
Jaclyn Moriarty
Series:
Ashbury/Brookfield #2
Published by
Scholastic
in 2005
Genres:
Chick Lit
,
YA
Pages:
352
Source:
Library
Goodreads
A tenth grade English teacher attempts to unite feuding schools by launching a pen-pal project. Best friends Cassie, Emily and Lydia initiate the correspondence, and are answered by Matthew, Charlie and Seb. Emily and Lydia are more than pleased with their matches, but quiet Cassie has a frightening experience with Matthew. When Lydia and Emily discover that Matthew has threatened their fragile friend, the Ashbury girls close ranks, declaring an all-out war on the Brookfield boys. Soon, the couples are caught up in everything from car-jacking and lock-picking, to undercover spying and identity theft.
Review:
First, can I just say that I was reading this right about the same time as I discovered Sherlock (See my review here) and I so want Jaclyn to be related somehow to the famous Moriarty. Even if he is fictional. I don't care!
But on to the novel. I found this book fun to read, though I didn't see what all the fuss is about. It doesn't make me want to run up to random people on the street and say "You have to read this" or anything (yes that is my qualification for "Best Book EVER!" status). On the other hand, I've written in epistolary format, albeit in a very one-sided capacity, and I know how difficult it is. As fun as the readers find it, it's so hard to figure out how to talk about things that people just wouldn't talk about in letters. Moriarty found clever ways of getting around that, by putting in diary entries, transcripts etc. (Can I just say? That writing journal she has one of the girls writing in would drive me insane! If you're going to give me prompts to write about at least make it accessible! And stop talking in that stupid perky voice all the time!)
If I had to make a sweeping generalization about this book, I'd say that it is the perfect "beach read" – Light and fluffy, but not to the point of being gag-worthy.
One more review today! Iron King by Julie Kagawa. Now off to do a little homework before it turns into a pumpkin.