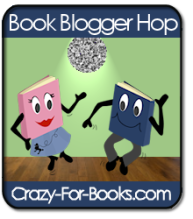 Guess what! It's time for another hop. This week's question:
"What is the thing you like most about reading book blogs? Is it the reviews, author guest posts, articles, giveaways, or something else entirely?"
Honestly, I'm here for the reviews and exposure to books that I've never heard of. I find that book bloggers are a very diverse group of people from many different places, and we all get our books somewhere different. That means, that a book that may be perfect for me is something you found on your local library's (or bookstore) shelf and I would never have seen it in a million years if it weren't for you. This is especially true for lesser known authors (who still write amazing stuff). At the rate that I go through books (when school isn't killing me, that is), without a constant stream of suggestions, I run out. This means much more time spent in the library, usually picking up books that are mostly mediocre, with one or two really great ones every couple months.
Don't get me wrong, I love a giveaway as much as the next person, and author interviews can be interesting (though I usually only read them if it's an author I really love, or someone I have burning questions I want answered). But the reviews are what keep me reading. A great big THANK YOU to all of you for keeping me reading interesting books! =D
How about you? Why do you read book blogs? Hop on over to Crazy-for-books, if you want to join in =)