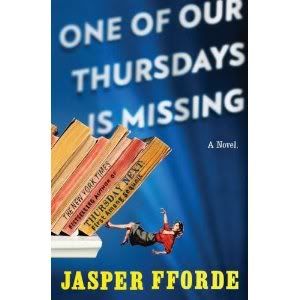 One of Our Thursdays is Missing
by
Jasper Fforde
Series:
Thursday Next #6
Published by
Viking Adult
in 2011
Genres:
Fantasy
Pages:
362
Source:
Library
Goodreads
Jasper Fforde's exuberant return to the fantastical BookWorld opens during a time of great unrest. All-out Genre war is rumbling, and the BookWorld desperately needs a heroine like Thursday Next. But with the real Thursday apparently retired to the Realworld, the Council of Genres turns to the written Thursday.

The Council wants her to pretend to be the real Thursday and travel as a peacekeeping emissary to the warring factions. A trip up the mighty Metaphoric River beckons-a trip that will reveal a fiendish plot that threatens the very fabric of the BookWorld itself.
My Review:
I have anxiously been awaiting this book ever since I finished TN5 First Among Sequels. Of course, I had to wait quite a while, so that Shade of Grey could come out first, so I was really excited when I saw my library had the book on pre-order – I was first in line on that wait list!

Unfortunately, it had been so long since I read First Among Sequels, that I couldn't quite remember what happened to make me so excited. I like to re-read the most recent novel before starting the new one any time I have a series like this that is still publishing, just to remind myself what happened, but I just didn't have time this time, and now I wish that I had. Probably because of this, and because of the insane amount of work I've been doing for my project recently, I had a really slow time reading this. It's not that the story was bad or anything, in fact I found it very interesting. But I just didn't get that "I cannot put this down even though it's 5 am and I have to be up again at 7″ feeling like I did for the first 5 books.


The premise of the book is interesting enough – the real Thursday has gone missing and the written Thursday decides it's her job to find the real one. Shenanigans ensue and when you get to the end, some part of you will probably be going "wait… what happened there?" I certainly didn't see the ending coming. 
I also thought his characterization of the written Thursday was very well done.

Though she had some doubt, I knew all along that she wasn't the real Thursday, because she didn't feel like the real Thursday. Real Thursday would have had to undergo some serious hypnosis to make her act so very different from the Thursday I know and love. A part of me wonders if that's why I had such trouble getting interested in the book – I wanted another book about the real Thursday, and written Thursday just doesn't read the same.
In the end, I'd give it 3 of 5 stars, just because I had some trouble with it. I still loved it, mind. I'm just not as much a fan as I was of the beginning.