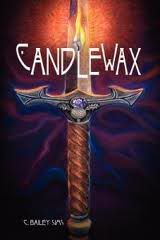 Title: Candlewax
Author: C. Bailey Sims
Summary: [from GoodReads]
An Ancient Prophecy. A Powerful Relic. An Insatiable Evil. When all three converge, the fate of every living thing will be in peril.

All her life Catherine had hoped to see a fairrier cat. No book, no scroll provided to her by her tutors had ever mentioned this legend, much to her frustration, and now-at the worse possible time-she was getting her wish. Only, in her wish the cat wasn't about to kill her.

A 732-year-old fairrier cat the size of a horse has killed his fair share of hunters. Driven to the brink of extinction for the supernatural powers of his coat, is he indeed the last of his kind?

Sheltered, 16-year-old Catherine is about to find out. Unwitting heir to the Ancient Onyxes, she flees an arranged marriage only to stumble upon the cat's secrets, the force of the ancient relic she wears, and the dangerous mission they must undertake.

Hidden under a desert that was once a fertile land, millions of predators are waiting to feast again. Catherine must discover the secret of the Ancient Onyxes and stop the creatures known as trodliks before they consume everything in their path. A whispered prophecy becomes her only guide and a rejected suitor just might be the one warrior she desperately needs.
My Review: One of the things I loved about this book is the Fairrier cats – large magical cats that protect Catherine's realm. It has been a while since I've seen a new and different supernatural creature. So many writers are obsessed with reimaginings of animals and paranormals we already have from mythology and it's nice to have something different presented in a very prominent position. Pokos, the main cat we deal with, is an especially fun character because he has such a strong personality. I loved the prologue from his point of view and I almost wish he had narrated the whole book.
Unfortunately, other than that, the book was a little blah for me. I will be the first to admit that MG isn't my favorite and it's partially my fault for not researching more and finding out Candlewax was MG before I requested it from NetGalley. There were several places I felt like the solutions to the problems were too simple and easy, and they were introduced too quickly. I also had a hard time believing in the romance – It felt a little too convenient that Cyril was "mysteriously" attracted to Catherine while she still was disguised as a boy. I've said before that I'm getting a little tired of the fated love stories that have no problems. I find there's too little development of the relationship in these stories for it to be believable for me.
Another big element of the book is the quest. This is a textbook example of the quest genre and a great introduction for the young reader. It has all the elements, but for me it overdid on the obstacles portion of the quest. Don't get me wrong, obstacles are necessary, but I would have liked fewer obstacles with more elaboration, or more difficulty to them. Once I start stepping out of the story to say to the author "now you're just being mean!" it's a little too much.
All that said, I think I would have absolutely loved this book if I had read it 10 years ago, when I was the age this book was intended for. I would definitely recommend this to those who enjoy MG and Fantasy novels, and to those who fit the age group the book was intended for.