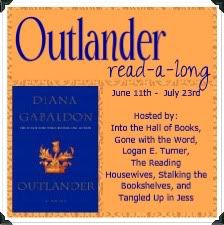 I am a complete and utter numpty and I didn't visit ANYBODY'S posts last week, despite my best intentions. And of course, this week I'll be gone all Monday (we're getting up at 5 am! EEEP!) BUT! I promise to try harder to get to everyone's posts this week! You can find the rest of the posts, and this week's questions here.
1. How do you feel about Claire disobeying Jamie and the resulting punishment he brings forth on her for this? Do you feel that Jamie's punishment was justified by the fact that everyone was put in danger by Claire's actions? Finally, did Jamie's vow with Claire's dagger do anything to sway your thoughts or change your mind on how you initially feel/felt about his punishment?

Despite the problems with adultery, violence and rape that could have arisen from the previous chapters, Jamie's punishment was actually the hardest section for me to deal with so far. I do not believe there is EVER a good enough reason for corporal punishment. Excuse it how you like, promise you'll never do it again all you want, but it is NEVER okay for a man to beat his wife. I hated it when he told her he'd do it if she disobeyed, but I didn't think he'd really follow through. When he actually did it, I honestly hated him for it. Despite every other good thing about him, I cannot love him as the romantic interest anymore.
All that said, I think, as an author, it was really bold to have him follow through, since that is what would have happened. One of the things that has really impressed me with this book is how true to the time period it has stayed, even when the subject matter isn't the cleanest or easiest to deal with. Even so. Beating your wife? NOT OKAY!
2. Just for fun, what was your reaction to the suspicious black spot Claire spotted on the floor near the area where Jamie was sleeping? Did you have any theories to what it might have been before it was revealed to be a _____?

For a few seconds I thought it was like a spot of blood or something because Jamie might be hurt. I certainly pictured the spot much bigger than a bedbug!
3. With regard to the 'changeling' baby Claire and Geilie spotted in the wild – if it were you back then and you happened upon a changeling baby in the wild in a circumstance such as this, do you think you'd have reacted most like Claire or Geilie? Explain.



I honestly don't know. I'm not in the same place Claire is – wanting a child for many years but not being able to have one. I like kids, sure, but would I feel the maternal instinct to try to save one at the expense of my own skin? Maybe not. Especially if the kid seemed sick enough that it was likely to die anyway.
4. Share your thoughts on Geilie Duncan. Is there anything that surprised you about her story or were you suspicious of her from the beginning?



I liked her! I was a little surprised to find out that she was from the future, though I should have suspected it with the way she knew her remedies etc. I was definitely surprised to find out she was from the future AND a Jacobite – wouldn't she already know they don't win? And what about the future made her hate it so badly that she wanted to change it? It seems odd to me.
(Also, speaking of changing the future, WHEN WILL WE DEAL WITH THAT? You have to, if you're writing a time-travel novel! Claire hasn't worried about it at all yet. I can excuse it, a little, if she comes from pre-H.G. Wells' Time Machine I suppose [and I have no clue when that was published], because she would never have thought of it. But, from a post-H.G. Wells' reader, I'm wondering just how much the world will have changed if/when she gets back!)
5. Your thoughts on Jamie's LAST REASON for wanting to marry Claire – the one he had been so secretive about. GO!



Oh I saw that coming for a long time. I think it's cute. I also am not okay with a wife-beater. This is conflicting for me – how could you beat someone you claim you loved? It makes for a nice resolution to the story, but I'm becoming more and more cynical when it comes to Jamie – a part of me wants her to go back to Frank. We'll see what happens though.
I have this funny feeling I'll be in the minority this week *sigh* I do so wish I could love Jamie like the rest of you do. But, love Jamie or hate him, at least the story is fabulous, right?