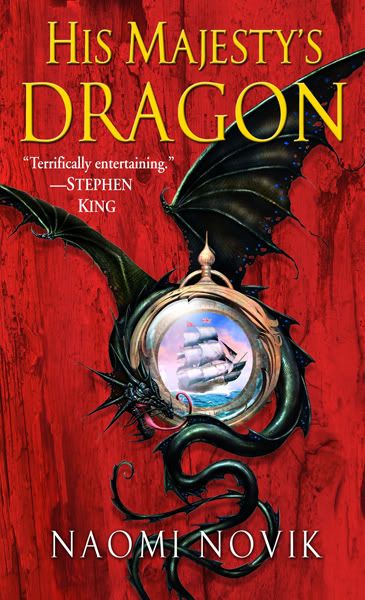 Title: His Majesty's Dragon (Temeraire #1)
Author: Naomi Novik
Summary: [from GoodReads]
Aerial combat brings a thrilling new dimension to the Napoleonic Wars as valiant warriors rise to Britain's defense by taking to the skies . . . not aboard aircraft but atop the mighty backs of fighting dragons.

When HMS Reliant captures a French frigate and seizes its precious cargo, an unhatched dragon egg, fate sweeps Capt. Will Laurence from his seafaring life into an uncertain future–and an unexpected kinship with a most extraordinary creature. Thrust into the rarified world of the Aerial Corps as master of the dragon Temeraire, he will face a crash course in the daring tactics of airborne battle. For as France's own dragon-borne forces rally to breach British soil in Bonaparte's boldest gambit, Laurence and Temeraire must soar into their own baptism of fire.
My Review:
This book has been on my "To-read" list for years (at a guess, at least 3 before I even started blogging!) It's high time I got it read, yes?
First of all, you need to know that I'm a dragon fangirl. Ever since reading through practically every book Anne McCaffery ever wrote in Junior High, I just couldn't get enough of fantasy dragons. I still wish there were more dragon stories out there because I just can't get enough!
This one wasn't the most accessible dragon book I've ever read, which might be why I've been putting it off for so long. The prose style has the weight of a classic historical fiction at times (James Michener comes to mind) and that can make it very difficult to wade through. There were several battle passages that I only glanced through – I don't care much about the details, even if they are more interesting than "they fought, side A won, major character 3 was wounded."
But, if you can get past the difficult word surplus it is well worth it! The concept of fighting against Napoleon with dragons is really interesting! The details are all covered and well thought out. The author accounts for several different belief systems involving dragons and has clearly spent quite some time thinking about how maneuvers would work (though I was much less interested in that – it all went way over my head).
Another thing I loved was the portrayal of Captain Lawrence. With his military training and tendency to remain aloof it would be very easy for him to slip into an insufferable Mr. Darcy type character. Instead, Novik balances the stiff-upper-lip with moments of tenderness with Temeraire that just make you love both sides all the more.
All in all this was a very satisfying, engaging read, and though I won't be picking up book 2 right away, I must remember to read adult lit more often – they have more dragons!