Can you believe it's April 1 already?! I know I can't! (Of course the weather hasn't helped much.)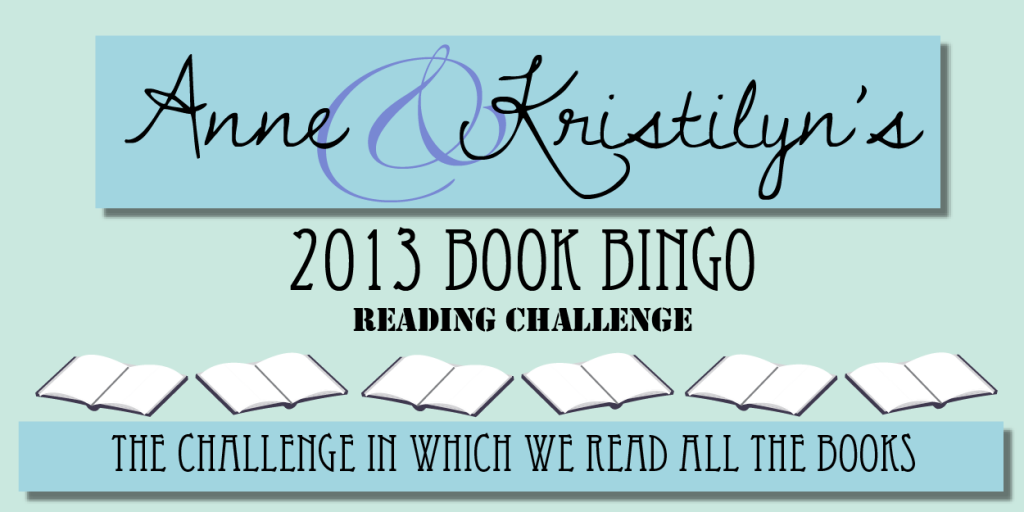 Book Bingo:
Hello to everyone joining in on the Book Bingo Challenge 2013! It's time for your quarterly update – don't worry, it should be quick and painless! If you've done a post with your updates, please put your link in the linky below so we can all come and say hi. If you don't have a post, that's okay – just leave us a comment with how you're doing! Please note: The linky is the same on both blogs, so you only need enter ONCE.
If you're new to the challenge, or would like a refresher on how this works, please see this post. It's not too late to sign up!
Don't forget you can also make updates using #2013BookBingo on Twitter!
A few reminders:
The FREE SQUARE is NOT a free square! You must read a book recommended by someone else participating in the challenge! If you're looking for a recommendation, feel free to post your request below, or by using the hashtag on Twitter.
If you're joining the challenge late, any of the books you've read since January 1st can be used toward the challenge.
Just a reminder on how to use the board: the first line across you will read one book per category, the second line across you will need to read TWO books per category, etc. all before you can mark that space as being complete. The only exception to this is the free square, where you will only need to read ONE book. If you have any questions about this, let us know!
And some housekeeping:
This is the inaugural Book Bingo challenge for us! We hope to bring it to you next year, so I ask: how are we doing? Is there anything you would change about the challenge? 
And most importantly, we hope you are all having FUN with the challenge!
My Progress:
I'm actually doing fairly well on this one! I have crossed off 13 squares so far, with one win by a line (the easy one, of course). Unfortunately, I'm struggling in two of the categories – 2013 releases and Everyone but Me. So, I'm looking for suggestions. I'd love it if you would leave me a comment with one book you think EVERONE has read and/or one book you loved or are really looking forward to in 2013.
You can see all of my progress on this page.
Weekend of Awesome:
Since both Kristilyn and I have lots of catching up to do (and we're guessing some of you might too) we have decided to make this weekend (4/5-7) a Weekend of Awesome, and we would like you to join us! A cross between Bloggiesta, a Read-a-thon and a Write-a-thon, Weekends of Awesome are all about doing ALL THE THINGS. Each day of the weekend of awesome is devoted to catching up/getting ahead in a different area: blogging, reading and writing.
If you want to join in, you're welcome to put together a goals post (I should have one up with my goals Friday morning), and feel free grab the button for your sidebar. You can also join in spur of the moment on Twitter by following #WeekendofAwesome. Either way, let us know in the comments if you're joining us so we can look out for you! (The linky is NOT a sign up for the Weekend of Awesome. Book Bingo updates posts only please.)
The next Weekend of Awesome will be held soon after the next check-in – stay tuned for official dates!
The next quarterly update will be July 1 – good luck everyone!