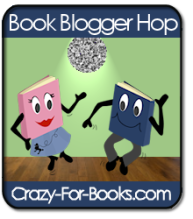 It's time for the weekly hop! This week's question is:
"How many blogs do you follow?"
Actually I only follow about 16, and 4 of those aren't even about books. This is because I'm very picky about who I follow. I already don't have enough time to read through every post on the blogs I follow. That's not to say I don't love other people's blogs. But especially with book blogs, if I don't think I would enjoy reading the types of things you review, I just don't follow you. I might check in every once in a while, just to see what kind of cool things you're doing. But I don't follow "just because." Sorry if that makes me a few enemies – I just don't deal well with backlogs and clutter, and this is one way to keep it down.
So, interesting things happening around here!
Upcoming book reviews: Roger and Amy's Epic Detour from Candace's mini-tour,
Shades of Grey by Jasper Fforde
A Year of Secret Assignments by Jaclyn Moriarty
Plus (hopefully) a media review on Inception
Leave a comment with your blog address and I'll try to stop by! (no guarantees though – school starts on Monday. EEP!!!)