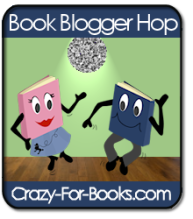 It's that time of the week again =) This week's "question" is: In honor of Book Blogger Appreciation Week tell us about your favorite book blogger.
This one is difficult for me. A lot of people can talk about the blogger who inspired them to start, but I decided to start book blogging on my own (I knew there were probably other people out there who reviewed books on their blogs, but I had never met/seen them). Another option is a blogger's best blogging friend, but I'm not that good at making friends, and I'm not that great at commenting on other people's blogs (I want my comments to be meaningful, not just "great job" on every post – I feel like that can get trite and old, and you start to wonder if they really mean it, especially if it's the same person every time). So it's difficult to pick a few reviewers out as "favorites."
But I suppose if I have to pick a few:
Candace was one of the first to follow me, and is always doing interesting things. The books she reviews are almost always ones that I am interested in, and I like her reviewing style.
Jessica at "Fanatic's Book Blog" is another one that I just love her style of reviews. Though sometimes her tastes differ from mine, I will usually at least read through all of her reviews just to check if it's something I need to put on my TBR pile.
I'd also like to mention a few who are perhaps less well known, but I love what they're doing:
The people over at Literary Soundtrack are doing something amazing (at least to me) – they're putting books to music! Now as a music major myself, I find myself doing this all the time, and I love to see other peoples opinions. Of course, I tend to do it from a classical music standpoint, as I'm studying classical music and I have a strong interest in film music, which when heard alone can often be disguised as classical music. But I still love what they're doing, and look forward to every single post.
And finally, Emily from Dragon's Ate my Homework. I think her title is so clever, and she often has meaningful comments on my posts, which I really enjoy.
Whew, that was a long "question." Don't feel bad if I didn't mention you – I had to pick favorites after all. Anyway, thanks for stopping by, leave a comment with your blog address and I'll try to return the favor.
Recent Reviews:
The Shadow Dragons by James Owen
Upcoming Reviews:
Fire by Kristin Cashore
The Eyre Affair by Jasper Fforde
Incarceron by Catherine Fisher
Iron Daughter by Julie Kagawa
Hex Hall by Rachel Hawkins
(Yes I know I got behind – that's what a weekend away and a personal read-a-thon, combined with catching a cold a few days later will do to you)