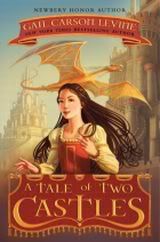 A Tale of Two Castles
by
Gail Carson Levine
Series:
A Tale of Two Castles #1
Published by
HarperTeen
in 2011
Genres:
Fantasy
,
MG
Pages:
328
Source:
NetGalley
Goodreads
Twelve-year-old Elodie dreams of becoming a mansioner--an actress. She journeys across the sea to the town of Two Castles in hopes of becoming an apprentice to a mansioning troupe, but things do not go according to plan. In spite of Elodie's great talent, the troupe already has plenty of apprentices. Elodie is out of luck: She has no money, no apprenticeship, and no home.

But an opportunity arises. The wise dragon Meenore is in need of an assistant to proclaim ITs powers of deduction and induction. Elodie is in need of a position. And so she becomes the dragon's assistant. When the town's hated ogre, Count Jonty Um, seeks the dragon's help in finding his stolen dog, Elodie is sent to the ogre's castle to get to the bottom of the mystery. More is afoot than just a missing dog. The ogre is in grave danger, and Elodie must use her mansioning skills and her powers of deduction to discover the source of the threat.
My Review:
I have loved Gail Carson Levine for a very long time. Ever since I read Ella Enchanted back in elementary school I knew I had to read anything I could manage. So, when I saw this book up on NetGalley for review, I jumped at the chance.
I will admit, I've grown out of MG novels, in general. Even when I was the right age for them, I was very picky – I hated books that were condescending (or that I thought were condescending) just because they were geared toward a younger audience. Levine never does that, and that was why I loved her. And I still love her, but it did take me a while to readjust to a MG novel after not reading any for many years.
This book did not disappoint. Levine sets up her cast of interesting characters well, leaving just enough mystery to keep us interested. I particularly enjoyed the character of Meenore – hints of Sherlock Holmes ran through it's characterization, but they all seemed to fit really well. I also really enjoyed the juxtaposition of the "monsters" and the "people" and how the definitions of both change through the book.
But the best thing about this book for me, was the story. I genuinely enjoyed this book simply for the pleasure of hearing a story told (or reading one, rather). I enjoyed the twists and turns of the mystery, felt sorry for Jonty Um the ogre, and felt hurt with Elodie. This book was pure fun all the way through, and I would recommend it to anyone looking for a decent story!