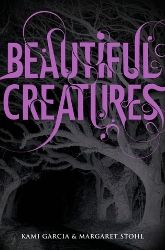 Beautiful Creatures
by
Kami Garcia
,
Margaret Stohl
Series:
Caster Chronicles #1
Published by
Little Brown and Company
in 2009
Genres:
Fantasy
,
Paranormal
,
YA
Pages:
563
Source:
Library
Goodreads
Lena Duchannes is unlike anyone the small Southern town of Gatlin has ever seen, and she's struggling to conceal her power, and a curse that has haunted her family for generations. But even within the overgrown gardens, murky swamps and crumbling graveyards of the forgotten South, a secret cannot stay hidden forever.

Ethan Wate, who has been counting the months until he can escape from Gatlin, is haunted by dreams of a beautiful girl he has never met. When Lena moves into the town's oldest and most infamous plantation, Ethan is inexplicably drawn to her and determined to uncover the connection between them.

In a town with no surprises, one secret could change everything.
My Review:
Wow, there is a lot of hype around this one! I've seen both really positive and really negative reviews for it. If I'm honest, I fall right in the middle. I'm not going to gush and say this book was the best thing ever, because I had some trouble getting into it, and I got really frustrated with the prejudice some characters were showing (I mean come on, I get it already, just get over yourself! Of course, there are people like that in real life, and it wouldn't be an accurate representation without them, but they're frustrating nonetheless.)
Once I got past the fairly complicated, and hence rather slow exposition it was a really good book! I read the last 200 pages or so in one sitting last night, even though it was really late and I knew I had school this morning. Some things I really liked that kept me reading:
1) Finally we have a male protagonist/mortal in one of these paranormal novels! I was getting kind of tired of the girl always being the one who "can't live without him" even if she is a strong woman in other ways. Let's spread the lovesickness around more often, please?
2) The setting was amazing! I loved the infusion of history in everything, because frankly we all know a whole lot more about the history of our hometown than we really want to (I think we had a lesson at least once per year on the Great Black Swamp growing up, and I bet the majority of you, dear readers have never even heard of it. You lucky, lucky people!) But the history wasn't just thrown in as part of the atmosphere, it was essential to the story and that is awesome!
3) The Mythology involved in this paranormal is extremely interesting, and I would keep reading just to find out more. They create this extremely intricate and complicated mythology, but somehow they manage to keep it a secret from the readers at the same time as the people in the town. I can't wait to find out more about the Casters, because I have a feeling they have it all worked out somewhere and just aren't telling us yet.
Bottom line: If you like this sort of thing, definitely go read it! It's wonderfully fresh and new and you won't be disappointed. Just be warned that you should give yourself a little more than your usual time to get into it.