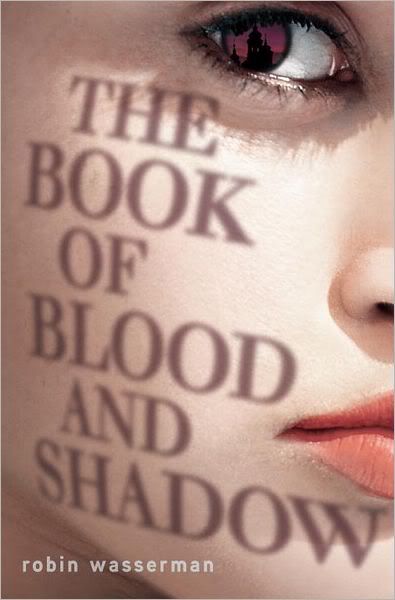 Title: The Book of Blood and Shadow
Author: Robin Wasserman
Summary: [from GoodReads]
It was like a nightmare, but there was no waking up. When the night began, Nora had two best friends and an embarrassingly storybook one true love. When it ended, she had nothing but blood on her hands and an echoing scream that stopped only when the tranquilizers pierced her veins and left her in the merciful dark.

But the next morning, it was all still true: Chris was dead. His girlfriend Adriane, Nora's best friend, was catatonic. And Max, Nora's sweet, smart, soft-spoken Prince Charming, was gone. He was also—according to the police, according to her parents, according to everyone—a murderer.

Desperate to prove his innocence, Nora follows the trail of blood, no matter where it leads. It ultimately brings her to the ancient streets of Prague, where she is drawn into a dark web of secret societies and shadowy conspirators, all driven by a mad desire to possess something that might not even exist. For buried in a centuries-old manuscript is the secret to ultimate knowledge and communion with the divine; it is said that he who controls the Lumen Dei controls the world. Unbeknownst to her, Nora now holds the crucial key to unlocking its secrets. Her night of blood is just one piece in a puzzle that spans continents and centuries. Solving it may be the only way she can save her own life.
My Review: This book is incredible. I mean, really freakin' keep you up at night amazing! There's so much going on I hardly know where to start!
A lot of people have compared this book to a teen Da Vinci Code, and I would say definitely, at least from the mystery/puzzle side of it. I love a book with a mystery I can't figure out, and this one had me guessing for a very long time. I also felt less annoyed by the religious references in this book – the mystery is still based around a "God" object, but there are no claims (well okay, no serious claims by people we're meant to like) that religion or lack-thereof is that important. Maybe this is just me being a lot older than I was when I read Da Vinci, but I was able to distance the religion part and focus on the rest of it, and that made it way more fun for me. [Disclaimer: I have nothing wrong with religion. I have a problem with things/people etc. that tell me "You MUST believe X,Y and Z to avoid Hell" even if I happen to believe X,Y and Z in the first place.]
The thing I love about this book though is how it defies classification. Sure I can put it in YA, but beyond that, is it paranormal? Is it a mystery? Or maybe even a horror/thriller? It's got a little bit of everything, and something for everyone. I will say, however, that this was my first read of Robin Wasserman's and the writing style took quite some time to get used to. The narrative is quirky and has a lot of stops and starts at the beginning – I can see why now, but I spent a lot of the first 50 pages or so wishing she would just get on with it and tell the story. Once I got past that, or stopped noticing, I'm not sure which, the story really started taking off for me.
As I say, this was my first read of Wasserman's, but it most definitely won't be my last!
Warning: This book contains some graphic violence that may not be suitable for everyone.
For Further Discussion: What is your position on religion in books? Many recent books feature angels/demons, even more feature faith as a prominent part of a character's life. At what point does the religion become too preachy?