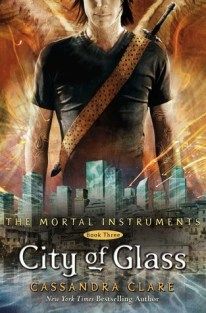 City of Glass
by
Cassandra Clare
Series:
The Mortal Instruments #3
Published by
Margaret K. McElderry
in 2009
Genres:
Fantasy
,
Paranormal
,
YA
Pages:
541
Source:
Bought
Goodreads
To save her mother's life, Clary must travel to the City of Glass, the ancestral home of the Shadowhunters -- never mind that entering the city without permission is against the Law, and breaking the Law could mean death. To make things worse, she learns that Jace does not want her there, and Simon has been thrown in prison by the Shadowhunters, who are deeply suspicious of a vampire who can withstand sunlight.
As Clary uncovers more about her family's past, she finds an ally in mysterious Shadow-hunter Sebastian. With Valentine mustering the full force of his power to destroy all Shadow-hunters forever, their only chance to defeat him is to fight alongside their eternal enemies. But can Downworlders and Shadowhunters put aside their hatred to work together? While Jace realizes exactly how much he's willing to risk for Clary, can she harness her new found powers to help save the Glass City -- whatever the cost?
My Review:
Wow! What an epic way to end an amazing series! As I read the first two before I started blogging, I'm going to use this as more of a review of the whole series,  mostly so I don't spoil too badly (despite their hype on the blogosphere, many people IRL have yet to read these – a majority of my friends included!)
One of the things I really loved about this series is the way Clare mixes her fantasy genres. I mean, obviously this is a paranormal series, but it combines different genres of paranormal into a world that makes sense. She explains how all the paranormals came to be in the world, which I love, and then expects them to work together (which they don't always, but such is the way of things, isn't it?). Eventually they work it out though and she finally fixes all the things that just struck me as wrong in the end. (Actually, that's the wrong way to put it. It's not that there was anything wrong with her writing, it's just there are a few things that she sets up to be "wrong" and she finally tells us how they can actually not be wrong… and I'm making it worse, aren't I? Just go read it!)


Another thing I love about the series is how vivid Clare's writing is when it comes to personality. When I read a book, I don't much care what the characters look like. In fact, most likely I'll have skipped over the character description without realizing it and fabricated the character's looks in my head based on their personality. Before the first Harry Potter film came out I could have sworn Malfoy had black hair. Not even kidding. Character description just isn't that important to the story for me (except when it is, of course. Nobody could miss that Harry's eyes are Emerald Green). Clare gives the characters such vivid personalities that I not only had pictures of them in my head, I was casting them for a possible film. I see books that way anyways, and I'm always very excited when one of the most vivid ones ends up becoming a film! I'm so excited for this one, and while I'm a little sad they didn't get Molly Quinn for Clary, I'm still holding out hope for Darren Criss as Magnus (OMG yes please!)


That's probably it for me before the weekend (birthday tomorrow, Jury Friday, Opera Sat. night EEP! I'm too busy!) Thank you all for sticking with me through this dry spell. I promise to make it worth your while as soon as I can – keep an eye out!