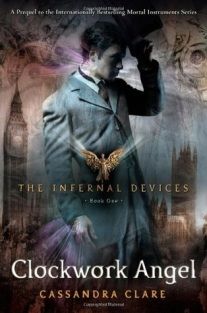 Clockwork Angel
by
Cassandra Clare
Series:
The Infernal Devices #1
Published by
Margaret K. McElderry
,
Simon & Schuster
in 2010
Genres:
Fantasy
,
Paranormal
,
YA
Pages:
476
Source:
Bought
Goodreads
Magic is dangerous--but love is more dangerous still.

When sixteen-year-old Tessa Gray crosses the ocean to find her brother, her destination is England, the time is the reign of Queen Victoria, and something terrifying is waiting for her in London's Downworld, where vampires, warlocks and other supernatural folk stalk the gaslit streets. Only the Shadowhunters, warriors dedicated to ridding the world of demons, keep order amidst the chaos.

Kidnapped by the mysterious Dark Sisters, members of a secret organization called The Pandemonium Club, Tessa soon learns that she herself is a Downworlder with a rare ability: the power to transform, at will, into another person. What's more, the Magister, the shadowy figure who runs the Club, will stop at nothing to claim Tessa's power for his own.

Friendless and hunted, Tessa takes refuge with the Shadowhunters of the London Institute, who swear to find her brother if she will use her power to help them. She soon finds herself fascinated by--and torn between--two best friends: James, whose fragile beauty hides a deadly secret, and blue-eyed Will, whose caustic wit and volatile moods keep everyone in his life at arm's length...everyone, that is, but Tessa. As their search draws them deep into the heart of an arcane plot that threatens to destroy the Shadowhunters, Tessa realizes that she may need to choose between saving her brother and helping her new friends save the world...and that love may be the most dangerous magic of all.
My Review:
I thought I loved The Mortal Instruments series. I was wrong. While I liked TMI, the term love should have been reserved for Clare's newest series, The Infernal Devices. What can I say, I've come to love steampunk!
It wasn't the fact that this was nominally Steampunk that made me love this one though.  In TMI the thing I most had to suspend disbelief for was the whole "secret society" bit. I loved it, because it was extremely well done and explained, but I think I will always be a little skeptical of a secret society in this information age. It's almost impossible to keep something like that out of the papers and off the internet. Put the Clave in Victorian England though, and suddenly you have an extremely believable scenario (with pretty dresses too!) The Pandemonium Club could have happened then, whereas now, people would probably start questioning if they didn't know who was leading a group they were in.
I also loved the characters in this one. While Will felt like a repeat of Jace for most of the book, Jem, Tessa, Jessamine and Sophie were all wonderfully new. I'm not saying the repeat is a bad thing – this lifestyle does things to a person and it is perfectly believable that Jace is not the only one who ever acted the way he did. And I have to be honest – while there wasn't any one character I valued over the others in TMI (sorry Team Jace or Team Simon or whatever you call yourselves) I've finally found my character to love! I absolutely loved the character of Jem and I would never get tired of him! Oh and I've changed my mind since my City of Glass post – Darren Criss can't be Magnus, because he would make an AMAZING Jem and Magnus is in both!


Clare has left me curious about so many things that I am anxiously awaiting Clockwork Prince perhaps even more than City of Fallen Angels! It is a gorgeous realization of her world as it might have been before, and left me wanting more!