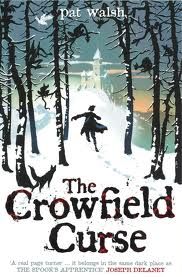 Title: The Crowfield Curse (Crowfield Abbey #1)
Author: Pat Walsh
Summary: [from GoodReads]
 Sent into the forest to gather firewood for the medieval abbey where he's an apprentice, Will hears a cry for help, and comes upon a creature no bigger than a cat. Trapped and wounded, it's a hobgoblin, who confesses a horrible secret: Something is buried deep in the snow, just beyond the graveyard. A mythical being, doomed by an ancient curse…

What does this mystery have to do with the cryptic brotherhood of monks Will serves? What does it have to do with the boy himself? When two cloaked figures darken the church's doorway and start demanding answers, Will is drawn into a dangerous world of Old Magic.
My Review
The first word that comes to mind to describe this book is "odd." It is an odd mixture of various books I've read, the prose felt odd and it left me feeling… odd. In a good way, but it's still weird.
Don't get me wrong, I did enjoy it. In fact, I enjoyed it surprisingly well for a MG novel. My usual complaints don't apply – the main character, William, is expected to think and reason through things for himself, and the other characters don't talk down to him too much.
Even after going through a list of things that could have bothered me but didn't, I can't tell you what is giving me the "odd" vibe. It reminds me of how I feel whenever I watch The Spiderwick Chronicles (which I actually really like, by the way). Maybe it's the remove from the "fae" world the characters live in – except that shows up in most paranormal YA too. Maybe it's the unusual fae creatures – they're all small, not many humanoids, and most prefer to skitter about unseen?
Whatever the cause, I really enjoyed the odd feeling. It was something new and different, which is pretty rare these days!