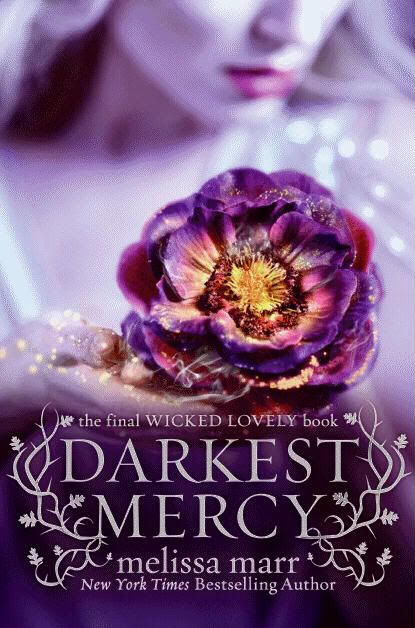 Darkest Mercy
by
Melissa Marr
Series:
Wicked Lovely #5
Published by
Harper
in 2011
Genres:
Fantasy
,
Paranormal
,
YA
Pages:
327
Source:
Library
Goodreads
The Summer King is missing; the Dark Court is bleeding; and a stranger walks the streets of Huntsdale, his presence signifying the deaths of powerful fey.
Aislinn tends to the Summer Court, searching for her absent king and yearning for Seth. Torn between his new queen and his old love, Keenan works from afar to strengthen his court against the coming war. Donia longs for fiery passion even as she coolly readies the Winter Court for battle. And Seth, sworn brother of the Dark King and heir to the High Queen, is about to make a mistake that could cost his life.
Love, despair, and betrayal ignite the Faery Courts, and in the final conflict, some will win . . . and some will lose everything.
My Review:
Finally, after far too long a wait, I have been able to read the final installment in the Wicked Lovely series. It was a long wait, but it was well worth it. I have loved this series since I opened the very first book last fall, and it continues to be one of my absolute favorite series' of all time! That said, this will probably be a rather short review. It is unbelievably easy to spoil earlier books just by talking about this one, and I hate to spoil any book if I can avoid it.
The gang's all here for one final adventure. It must have been some kind of juggling act keeping up with all the story lines she set up in the earlier books, and I'm well impressed with the result. By the end of the book I found that my curiosity about all the storylines was finally sated, and despite feeling sad that a good thing had ended, I felt that this was the perfect ending to a wonderful series.
If you haven't read the rest of the series, don't start here. You'll be far too confused. Start at the beginning and work your way here, though, it is well worth it!