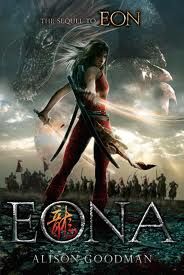 Title: Eona (Eon #2)
Author: Alison Goodman
Summary: [from GoodReads]
 Eon has been revealed as Eona, the first female Dragoneye in hundreds of years. Along with fellow rebels Ryko and Lady Dela, she is on the run from High Lord Sethon's army. The renegades are on a quest for the black folio, stolen by the drug-riddled Dillon; they must also find Kygo, the young Pearl Emperor, who needs Eona's power and the black folio if he is to wrest back his throne from the selfstyled "Emperor" Sethon. Through it all, Eona must come to terms with her new Dragoneye identity and power – and learn to bear the anguish of the ten dragons whose Dragoneyes were murdered. As they focus their power through her, she becomes a dangerous conduit for their plans. . . .
My Review
Wow! What an amazing ending to a great series! I can't believe I put off reading this one for so long! I have to admit, I didn't remember a whole lot from the first book. I'd say I spent a good quarter of Eona saying to myself "should I remember this person?" etc. etc. But eventually I got into the flow of it and was speeding along as normal.
One of the things I really liked about this one was how much if felt like a High Fantasy. Eona is on her own now, traipsing through the wilderness to try and win back the kingdom. She makes lots of mistakes, and when she screws up it's terrifying because of the amount of power she holds. But at the same time I love that she makes mistakes because they're part of her quest. If she knew exactly what to do and when to do it, I wouldn't want to read about her anyway, right?
And oh boy, that ending! I was so surprised! While it made sense and it really worked for what the book was trying to do, there was hardly any foreshadowing, so it kind of hit me out of the blue. That's okay though! It wasn't a "where the eff did that come from" kind of surprise. More like an "oh crap everybody was so wrong" kind of surprise. And every once in a while I really enjoy that kind of thing.
Eona was a really well written conclusion to a fabulous series! I'm excited to look into the other books Ms. Goodman has published!