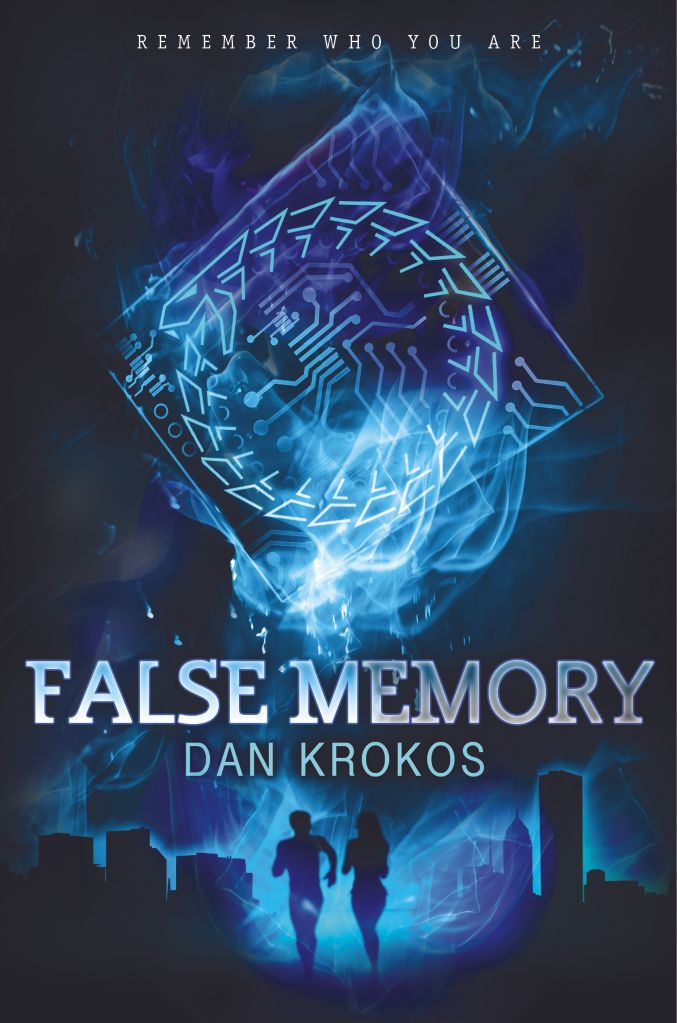 Title: False Memory (False Memory #1)
Author: Dan Krokos
Summary: [from GoodReads]
 Miranda wakes up alone on a park bench with no memory. In her panic, she releases a mysterious energy that incites pure terror in everyone around her. Except Peter, a boy who isn't at all surprised by Miranda's shocking ability.

Left with no choice but to trust this stranger, Miranda discovers she was trained to be a weapon and is part of an elite force of genetically-altered teens who possess flawless combat skills and powers strong enough to destroy a city. But adjusting to her old life isn't easy—especially with Noah, the boyfriend she can't remember loving.

Then Miranda uncovers a dark truth that sets her team on the run. Suddenly her past doesn't seem to matter… when there may not be a future.
My Review
Have you ever read a book that felt like it started in the middle? This one does that – for good reason! – but I'm not sure I liked it.
Miranda wakes up with no memory and strange abilities, and Peter, who acts like he knows her, takes her in. Miranda's supposed "amnesia" means that the reader is thrown into the thick of things with very little information and it's incredibly confusing. At first it's great, because the reader is made to feel the same way Miranda does. After a while it gets old.
Once we finally get more information (in, like, the last quarter of the book) we start getting into the important stuff. It asks us what makes us who we are, and one of the most basic literature questions, Nature vs. Nurture. And, it gives us a unique point of view on the answers. But, we're given no time to think about these questions because OOPS someone somewhere is about to blow something up or something. It's like the book acknowledges that these questions Miranda is asking are really important and then it decides that they're too big to deal with right now, so it runs away from them again.
That's not to say that the book wasn't fun. I love the espionage angle and I think the "big issues" thing is totally redeemable in the second book. But you can't expect to take on issues on the level of books like Frankenstein and only deal with them halfway. So I'll probably be reading the next book eventually, just to see what happens, but I'm not going to give it top priority.