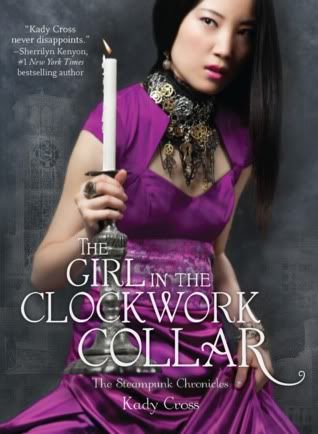 Title: The Girl in the Clockwork Collar (Steampunk Chronicles #2)
Author: Kady Cross
Summary: [from GoodReads]
In New York City, 1897, life has never been more thrilling – or dangerous.

Sixteen-year-old Finley Jayne and her "straynge band of mysfits" have journeyed from London to America to rescue their friend Jasper, hauled off by bounty hunters. But Jasper is in the clutches of a devious former friend demanding a trade-the dangerous device Jasper stole from him…for the life of the girl Jasper loves.

One false move from Jasper and the strange clockwork collar around Mei's neck tightens. And tightens.
My Review: Girl in the Steel Corset was one of my favorite reads of 2011. So when I found the sequel on NetGalley, I rushed to request it. It took me a while, but I've finally finished it and organized my thoughts for a review.
The short version: I liked it. Not so much in the passionate, gotta-have-more-right-now way I liked GitSC, but more in a quiet, that-was-really-enjoyable way. The cast has moved to NYC (which for some reason, in my imagination, closely resembles the 1800's version of NYC in that movie Kate and Leopold with Hugh Jackman in it, you know the one?) to chase down the man who captured their friend Jasper. Griffin and Finley have their typical stubborn spats, Emily tries to smooth it all over, as usual, etc. etc. Perhaps that's why it was such a comfortable read for me – the relationships between the characters were established already, and didn't change too much.
Instead, this novel focused on the outside impetus – Jasper's kidnapper and his demands, and the unknown thing that sometimes attacks Griffin while he's employing his, for lack of a better word, skills. That turns the book into more of a fun mystery story than anything else. In fact, it mostly reminds me of those recent Sherlock films with Robert Downey Jr. and Jude Law in them. Lots of action, not too much character development (mostly because we already know the characters involved) and just a lot of fun.
If you haven't read Girl in the Steel Corset yet I highly recommend that you do so before starting this book. Otherwise, dive in! You're in for a fun time.