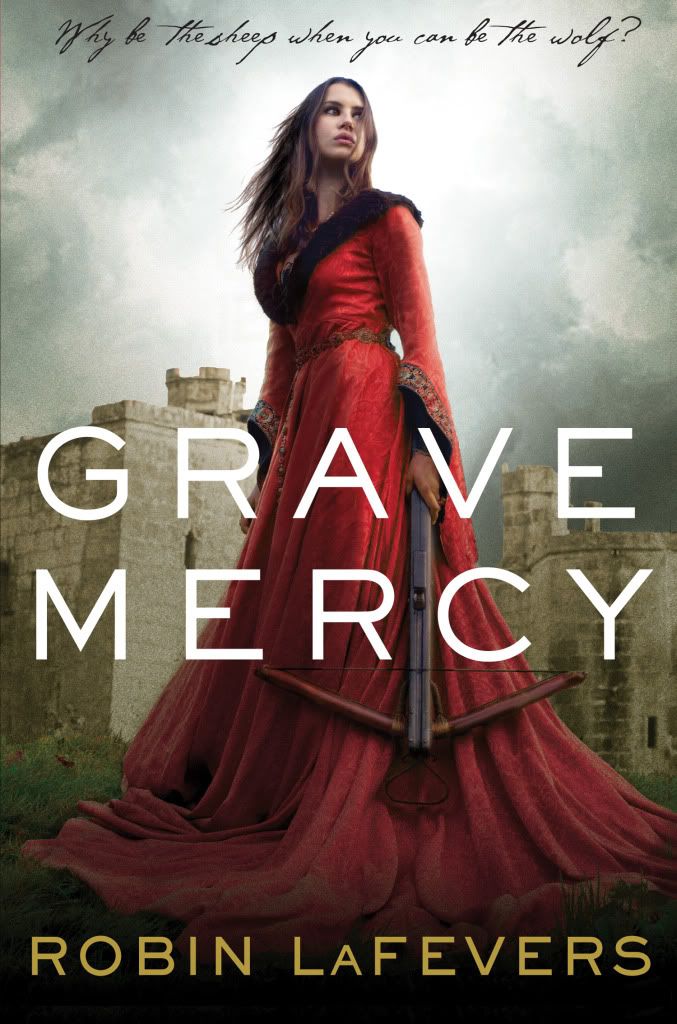 Title: Grave Mercy (His Fair Assassin #1)
Author: Robin LaFevers
Summary: [from GoodReads]
Why be the sheep, when you can be the wolf?

Seventeen-year-old Ismae escapes from the brutality of an arranged marriage into the sanctuary of the convent of St. Mortain, where the sisters still serve the gods of old. Here she learns that the god of Death Himself has blessed her with dangerous gifts—and a violent destiny. If she chooses to stay at the convent, she will be trained as an assassin and serve as a handmaiden to Death. To claim her new life, she must destroy the lives of others.

Ismae's most important assignment takes her straight into the high court of Brittany—where she finds herself woefully under prepared—not only for the deadly games of intrigue and treason, but for the impossible choices she must make. For how can she deliver Death's vengeance upon a target who, against her will, has stolen her heart?
My Review: For a while there it seemed like everyone had read this book. I looked forward to it so much that I could barely stand it – if I didn't have an aversion to hard cover books I would have gone out and bought myself a copy the day it came out, which I hardly ever do. But, it did finally come through at the library, and let me say, it did not disappoint. I loved every minute of it and I can't wait for more!
There were so many things to love about this book. Ismae is such a strong character, despite the hardships she goes through at the beginning. She revels in the fact that she finally has control over men, in a time when women were always subordinate, because even men can die, and often do at her hands. At the same time, we see enough of her insecurity that we don't hate her for being too perfect, too self-assured.
Duval, the semi-romantic interest, is the perfect foil for Ismae. He is confident where she is not, and he enjoys holding that over her. I love the interplay between their characters because it is nearly always a competition to see who breaks first – psychological chicken if you will. It's almost funny, because as a reader you know they're both bluffing at least a little, but neither will admit weakness to the other.
Probably my favorite thing about the book is that when Ismae's religion is brought into question, it's done delicately, but in such a way that it made me start to think about the things I believe. There are lots of things that we all blindly believe – mostly because if we took the time to think about all the things we believe and decide we would never do anything else. This book encourages us to take a look at our beliefs anyway, because sometimes the things people tell us are just wrong.
I absolutely love that Young Adult has started to get into high fantasy – my first and true reading love. As much as a year ago, high fantasy novels in YA were rare. Most fantasy was paranormal or some version of urban fantasy that had a lot of the real world in it. I do enjoy those, and I read a lot of them because that was what was being published at the time. But now, when I want a high fantasy, I don't have to rely on the huge tomes that are published in Adult high fantasy – some of them top out at 1000+ pages! YIKES! I don't always have that kind of time!
Bottom line: This is a great book that would work really well as an introduction to high fantasy, but is also just a really good read. So what are you reading this for? Go find yourself a copy Grave Mercy and read that!