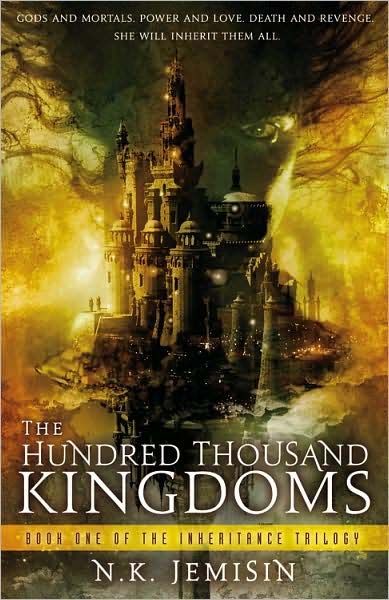 Title: The Hundred Thousand Kingdoms (The Inheritance Trilogy #1)
Author: N.K. Jemisin
Summary: [from GoodReads]
 Yeine Darr is an outcast from the barbarian north. But when her mother dies under mysterious circumstances, she is summoned to the majestic city of Sky. There, to her shock, Yeine is named an heiress to the king. But the throne of the Hundred Thousand Kingdoms is not easily won, and Yeine is thrust into a vicious power struggle with cousins she never knew she had. As she fights for her life, she draws ever closer to the secrets of her mother's death and her family's bloody history.

With the fate of the world hanging in the balance, Yeine will learn how perilous it can be when love and hate – and gods and mortals – are bound inseparably together.
My Review
Have you ever read a book, put it down when you're finished and said "woah… what the f*ck did I just read?" That was this book for me. Not that I didn't like it. It was a beautiful work of art, in a way. But I am still reeling and confused from it.
One of the things The Hundred Thousand Kingdoms does really well is world-building. The world is made up of several distinct and complex cultures. These cultures have a very unique mythology that isn't based on any recognizable human religion, or maybe it's based on ALL of them at once. And in this world, instead of seeing the gods at a distance, we get an up close and personal look at how the beliefs held by practitioners of a religion might affect a god. Plus there's the added bonus of what one might be able to do with a god if he has an actual body (read: sexy times with the god of chaos! Not such a good idea actually, but hey, whatever makes your boat float, right?)
But gods and religion are only one facet of this incredible tale. The driving force of the story is the battle between the heirs for the throne. The intrigues reminded me a little of an adult version of Throne of Glass only instead of using their own skills, they use their gods to do their bidding.
My main problem with the book was the sheer amount of detail about the world to remember. There wasn't a whole lot of wriggle room for my imagination, plus, the scale of the work made it difficult for me to hold the whole thing in my head. I guess I've been reading YA too much, because I'm out of practice at this whole high fantasy thing! As I put the book down I felt remarkably similar to the way I do when I'm leaving an art museum: Like I've seen something overwhelmingly beautiful that I just don't quite understand, so I'm wandering around thinking "…what the *bleeeeep*…?"