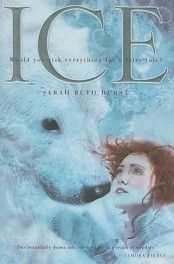 Ice
by
Sarah Beth Durst
Published by
Margaret K. McElderry
in 2009
Genres:
Fantasy
,
YA
Pages:
308
Source:
Library
Goodreads
When Cassie was a little girl, her grandmother told her a fairy tale about her mother, who made a deal with the Polar Bear King and was swept away to the ends of the earth. Now that Cassie is older, she knows the story was a nice way of saying her mother had died. Cassie lives with her father at an Arctic research station, is determined to become a scientist, and has no time for make-believe.Then, on her eighteenth birthday, Cassie comes face-to-face with a polar bear who speaks to her. He tells her that her mother is alive, imprisoned at the ends of the earth. And he can bring her back — if Cassie will agree to be his bride.
That is the beginning of Cassie's own real-life fairy tale, one that sends her on an unbelievable journey across the brutal Arctic, through the Canadian boreal forest, and on the back of the North Wind to the land east of the sun and west of the moon. Before it is over, the world she knows will be swept away, and everything she holds dear will be taken from her — until she discovers the true meaning of love and family in the magical realm of Ice.
My Review:
This is what happens when I am on break. I'll read two or three books simultaneously for a few days and then finish them all at once! I'm very sorry for bombarding your feeds, really!
In essence, this book is a modernized retelling of the fairy tale East of the Sun, West of the Moon. I love fairy tale retellings, and though this particular fairy tale isn't my favorite, it is one of my friends' favorites and so I have read a fair amount of retellings of this story. Of course, the problem then is I am very picky about my fairytale retellings. I expect a lot from them. This one did a passable job, but it unfortunately hasn't made my favorites list.
One of the things I really liked was the modern setting of the retelling. Durst did a really good job updating the tale, and making it plausible in modern day, at least at the beginning. I liked the flavor of Native American tales she brought to the story, and I liked that it was up in the Arctic Circle – while the Norse versions are fun they lend themselves more to a fantastical retelling and to truly make this a modern day tale, I think an Arctic Circle research lab was the only way to go.
The main thing that would have pushed this up onto the favorites list was a little more development in the characters. I felt that Durst jumped straight into the story without giving us much time to get to know the main characters, which is ok as long as you give us a chance to get to know them later. I never felt it, though, and I was less invested in what happened as a result.
Overall, though, an interesting retelling that deserves a read by anyone interested in this fairy tale or fairy tale retellings in general.