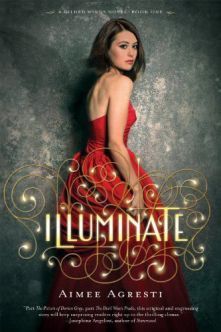 Title: Illuminate (Gilded Wings #1)
Author: Aimee Agresti
Summary: [from GoodReads]
Haven Terra is a brainy, shy high school outcast. But everything begins to change when she turns sixteen. Along with her best friend Dante and their quiet and brilliant classmate Lance, she is awarded a prestigious internship in the big city— Chicago—and is sent to live and work at a swanky and stylish hotel under the watchful eyes of a group of gorgeous and shockingly young-looking strangers: powerful and alluring hotel owner Aurelia Brown; her second-in-command, the dashing Lucian Grove; and their stunning but aloof staff of glamazons called The Outfit.

As Haven begins falling for Lucian, she discovers that these beautiful people are not quite what they seem. With the help of a mysterious book, she uncovers a network of secret passageways from the hotel's jazz-age past that leads her to the heart of the evil agenda of Aurelia and company: they're in the business of buying souls. Will they succeed in wooing Haven to join them in their recruitment efforts, or will she be able to thwart this devilish set's plans to take the souls of her classmates on prom night at the hotel?
My Review
This was one of those rare books that I hadn't heard of before picking it up off the shelf at the library. I didn't really know what to expect – the blurb I saw hardly gave anything away. So I was delightfully surprised to find Illuminate was one of those books I just could NOT put down.
The premise is fairly simple – three teenagers are asked to intern at a hotel that is run by the devil's minions. Haven, the main character, has a power that they want and they'll offer her anything to get it. The plot relies fairly heavily on intertextuality – both Faust the The Picture of Dorian Grey are strong influences. Despite such strong influences, this isn't a mere retelling. Each borrowed element was used in an original way – some could even be said to explain mysteries left by their predecessors.
One of the things I really liked about this one is that even though Haven is "good" she still makes mistakes. It takes her a while to figure out what's going on, and in that time she makes some really bad choices. Some of them she even knows are bad, but she makes them anyway. Throughout the book there's a strong emphasis on free will. Even though they're cheating a little, Aurelia and Lucian want Haven to choose the dark side. To me, that makes it all so much more realistic – we always have a choice, no matter what situation we face.
And through it all what really brought the book alive was the imagery. I especially loved the descriptions of the Vault – the bar attached to the hotel. It was almost like I didn't have to read the book, just open it and let the pictures flow before me.
This was definitely a very interesting book and I'm looking forward to the next one!