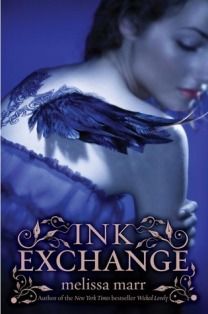 Ink Exchange
by
Melissa Marr
Series:
Wicked Lovely
Published by
HarperTeen
in 2008
Genres:
Fantasy
,
Paranormal
Pages:
328
Source:
Library
Goodreads
To 17-year-old Leslie, the tattoo is a thing of indescribable beauty, a captivating mark that she must make her own. But this subtle web of eyes and wings brings with it a transformation that no sweet young girl would ever imagine or welcome.
My Review:
This was an interesting one for me. After loving the first one, I was desperate to get my hands on more, but at the same time, I was skeptical about having completely different characters. While I really enjoy the technique of telling the continuing story from a minor or unknown character's point of view, it's actually really difficult to do well (see my review of The Murder of Bindy Mackenzie).
One of the things I love about Marr is her language. Some authors have a very distinct language that just begs to be read – J.K. Rowling's language begs to be read so much that I often end up reading her novels aloud to myself when no one's around to hear how crazy I sound. Marr's language is just as distinctive but in a different way – it begs to be listened to, in the same way that Rowling's begs to be spoken, and I spent far too many late hours unable to stop listening to it.
Then we have the amazingly colourful new(ish) character, Leslie. She was friends with Aislinn before the events of the previous book, so in a way, she is telling the sequel to Wicked Lovely but she is so wrapped up in the events that it really is her story. She is so well thought out that she seems like a real person, and I spent much of the novel wishing I could reach through the pages and give her advice.
I also enjoyed the depth she gave to Niall, a rather minor character from the previous novel. The only complaint I have is that I wish I could have had a hint of the agony that was coming in the previous novel. His history is never even touched on in Wicked Lovely, and while I suppose it has not place there, it is so central to this novel that it felt a little out of the blue. Even if she had just hinted that he had a darker past somehow. (There is always the possibility that she did hint at it and I missed it – I read very quickly and don't always catch everything, especially if I don't think it's relevant.)
Anyway, overall, I'd say a wonderful sequel and I'm looking forward to finding the next one.