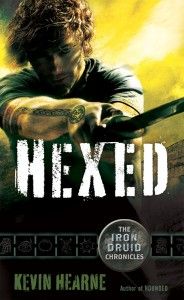 Title: Hounded, Hexed, and Hammered (Iron Druid Chronicles #'s 1-3)
Author: Kevin Hearne
Summary: [from GoodReads (book 1)]
Atticus O'Sullivan, last of the Druids, lives peacefully in Arizona, running an occult bookshop and shape-shifting in his spare time to hunt with his Irish wolfhound. His neighbors and customers think that this handsome, tattooed Irish dude is about twenty-one years old—when in actuality, he's twenty-one centuries old. Not to mention: He draws his power from the earth, possesses a sharp wit, and wields an even sharper magical sword known as Fragarach, the Answerer.

Unfortunately, a very angry Celtic god wants that sword, and he's hounded Atticus for centuries. Now the determined deity has tracked him down, and Atticus will need all his power—plus the help of a seductive goddess of death, his vampire and werewolf team of attorneys, a sexy bartender possessed by a Hindu witch, and some good old-fashioned luck of the Irish—to kick some Celtic arse and deliver himself from evil.
My Review
Hounded, the first of the Iron Druid Chronicles, was my very first full length new audiobook. I honestly expected to be unable to pay attention enough to form an opinion. Instead I found myself really into the story, trying very hard to not to laugh out loud while I listened at work!
My favorite character, by far, was Oberon, Atticus's Irish Wolfhound. His commentary was hilarious, so blunt and honest and so very doglike! It's also worth mentioning that Luke Daniels, the narrator, did a fantastic job with creating voices for all the characters. I never had to wonder who was speaking when there weren't speech tags – I'm amazed that one person could do that many different voices!
As soon as I finished Hounded I rushed to download Hexed, eager to find out what happened. There was much less of Oberon in book two, and I found I didn't enjoy it quite as much as the first. But, on the other hand, Hexed still had the obscure gods that I always love. The story was still intriguing and I was still curious so I then downloaded Hammered.
About halfway through listening to Hammered I finally ran out of steam. For one thing, the whole story-within-a-story thing is a hard sell for me. I understand why the author did it in this case, but it really felt like "telling" instead of showing. It kicked me out of the story just enough to start noticing other small things that bugged me about the book. The big one for me? Atticus's attitude about women. Now, being a girl I don't getmen in the first place, and I know he's from a couple thousand years ago when things were different. But it seems like Atticus spent an awful lot of time objectifying women.
Despite the few issues I had with the series so far, I think I'll read/listen to the rest of the Iron Druid Chronicles someday.