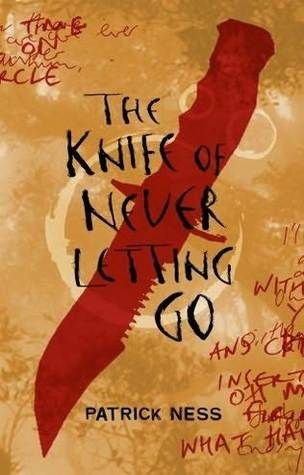 Title: The Knife of Never Letting Go (Chaos Walking #1)
Author: Patrick Ness
Summary: [from GoodReads]
 Prentisstown isn't like other towns. Everyone can hear everyone else's thoughts in an overwhelming, never-ending stream of Noise. Just a month away from the birthday that will make him a man, Todd and his dog, Manchee — whose thoughts Todd can hear too, whether he wants to or not — stumble upon an area of complete silence. They find that in a town where privacy is impossible, something terrible has been hidden — a secret so awful that Todd and Manchee must run for their lives.

But how do you escape when your pursuers can hear your every thought?
My Review
Forget zombies, vampires and ghosts. You know what creeps me out the most? The idea of someone being able to read my mind. There are so many times I think something, and then immediately think "Geez, I would be SO embarrassed if they could hear me think that." So this book? Terrifying!
In a way, though, I loved it because it was so terrifying. My heart was almost constantly in my mouth while Todd was on the run because I was so sure that he and Viola would get caught. Somehow, even though they supposedly would have heard their pursuers coming I was sure they would miss it anyhow and be caught and killed. I grew to love the characters so much, despite their gruff manners and blunt speech. And when [SPOILER! Highlight to read.] Manchee died I cried right along with Todd.
And then there's the ending. Way to twist the knife on the way out Mr. Ness! I both hate him and love him for that cliffhanger. On the one hand, the ending left me bereft, in the depths of despair and sure that if I didn't find out how they managed to get out of the situation RIGHT NOW then they never would. On the other hand, that book was so heavy that I'm not sure I could handle reading any more than one in a row!
For such a well-crafted sci-fi this book is incredibly heavy on the moral issues. It kind of reminded me of reading Grapes of Wrath in high school. Only in outer space and everyone could hear each others' thoughts. Those moral issues are what really made the book for me, but the suspense is what kept me going. I can't wait to pick up the next book and see what happens!