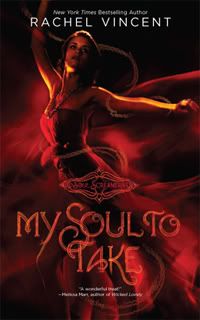 Title: My Soul to Take (Soul Screamers #1)
Author: Rachel Vincent
Summary: [from GoodReads]
She doesn't see dead people. She senses when someone near her is about to die. And when that happens, a force beyond her control compels her to scream bloody murder. Literally.

Kaylee just wants to enjoy having caught the attention of the hottest guy in school. But a normal date is hard to come by when Nash seems to know more about her need to scream than she does. And when classmates start dropping dead for no apparent reason, only Kaylee knows who'll be next.
My Review:
My Soul to Take is the latest in a long line of "books I can't believe I haven't read." So many people were so excited when the latest in the series was about to come out and yet I somehow hadn't even heard of the series! I know, I live under a rock or something.
One of the things I really liked about the series was the "mythology" that surrounded the plot. There were lots of unexpected details that made it clear the author did her research on the original lore of banshees. At the same time there were other aspects that were used in a new, almost irreverent, way. I especially enjoyed the portrayal of Tod and the system of reapers. (Also, I definitely got a giggle out of Tod's name – a reaper named death?)
All of that said, one of the things that really frustrated me was the way Nash just stepped in and took over. I feel like I've read far too many paranormal romances lately, and many follow the same basic plot:
Girl notices hot new boy who practically stalks/throws himself at her, sometimes even though she's in a relationship.
Girl does something weird she doesn't quite understand.
Boy swoops in and is: a) like her, b) sworn to 1) protect, 2) marry or 3) save her, OR  c) somehow knows ALL ABOUT what she's going through.
Boy holds girl's hand, tells her it's okay and either fixes ALL the things, or tells her ALL the answers.
Girl magically forgets creepy stalking and falls in love with him FOREVER at age 16.
Sound realistic to you? Yeah, didn't think so. Now I'm not saying it's not a great idea – what girl doesn't want a guy who is hot, understands everything about you, and can fix anything (there's a reason all Sam says in the Holes movie is "I can fix that"!)? But after reading too many of them in a row, I'm starting to cringe as soon as the boy comes in and is described as "the hottest guy I've ever seen" because I know exactly where it's going, and it's going to end up with a heroine who relies almost entirely on her guy to fix it. *sigh*
Overall, though, I really enjoyed the book, and may I recommend for those of you who have already read and liked this book that you check out Croak by Gina Damico? Much better on the romance side of things, and it reads almost like the story of the reapers in this one!