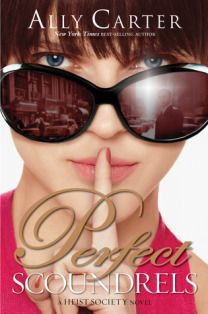 Title: Perfect Scoundrels (Heist Society #3)
Author: Ally Carter
Summary: [from GoodReads]
 Katarina Bishop and W.W. Hale the fifth were born to lead completely different lives: Kat comes from a long, proud line of loveable criminal masterminds, while Hale is the scion of one of the most seemingly perfect dynasties in the world. If their families have one thing in common, it's that they both know how to stay under the radar while getting–or stealing–whatever they want. No matter the risk, the Bishops can always be counted on, but in Hale's family, all bets are off when money is on the line. When Hale unexpectedly inherits his grandmother's billion dollar corporation, he quickly learns that there's no place for Kat and their old heists in his new role. But Kat won't let him go that easily, especially after she gets tipped off that his grandmother's will might have been altered in an elaborate con to steal the company's fortune. So instead of being the heir–this time, Hale might be the mark. Forced to keep a level head as she and her crew fight for one of their own, Kat comes up with an ambitious and far-reaching plan that only the Bishop family would dare attempt. To pull it off, Kat is prepared to do the impossible, but first, she has to decide if she's willing to save her boyfriend's company if it means losing the boy.
My Review
I always forget how much fun these books are! Next time I put off reading a light-hearted YA action novel, kick me, would you? Please?
This is another that I don't really remember what happened in the first two. It was mostly okay though, because as long as you remember how the characters all know each other and what their personalities were like, you'll be fine. I did have some minor problems trying to work out the timeline – there are a few sections that clearly flash back to before the other two books, but it's hard to tell with some of them if they're before or after – but if you can ignore that, it really is a great book.
The thing that makes this book stand out for me is the moral issues involved. Kat is hired to uncover a crime, but by doing so she may severely damage her relationship with Hale. Much of the book is spent exploring the tension there. There's always been tension between Hale and Kat – I vaguely remember thinking that there was too much that they don't know about each other for their relationship to be realistic. This book finally explores that.
And, of course, as with the other books, the intricacies of planning and executing their heists fascinate me. Just trying to figure out what the bad guy is up to is entertaining enough for me in most books, but then add trying to figure out how Kat is going to do what seems impossible adds a whole new layer of fun.
While this series isn't necessarily the biggest "thinker" series these books really are just boatloads of fun – the kind of books I'd recommend to a teen who doesn't read much but wants to start.