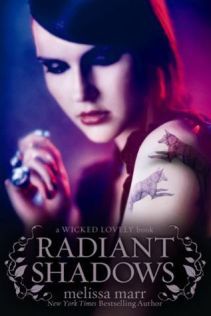 Radiant Shadows
by
Melissa Marr
Series:
Wicked Lovely #4
Published by
Harper
in 2010
Genres:
Fantasy
,
Paranormal
,
YA
Pages:
340
Source:
Library
Goodreads
Half-human and half-faery, Ani is driven by her hungers.
Those same appetites also attract powerful enemies and uncertain allies, including Devlin. He was created as an assassin and is brother to the faeries' coolly logical High Queen and to her chaotic twin, the embodiment of War. Devlin wants to keep Ani safe from his sisters, knowing that if he fails, he will be the instrument of Ani's death.
Ani isn't one to be guarded while others fight battles for her, though. She has the courage to protect herself and the ability to alter Devlin's plans—and his life. The two are drawn together, each with reason to fear the other and to fear for one another. But as they grow closer, a larger threat imperils the whole of Faerie. Will saving the faery realm mean losing each other?
My Review:
Wow! This book was amazing! It reminded me of the very first in the series, when I was just discovering this world that she'd built. One of the things I especially love about this series is the way she tells the story from a different point of view each time – first Aislinn, then Leslie, then Seth and this time Ani. We still see the characters we came to love in earlier books but they're peripheral characters. This allows us something unique – we get to learn about them through the eyes of other people. Novels that focus on a single character tend to get rather "self-centric" and we only see what the character thinks about themselves. The other characters see things the way that a person cannot see themselves.
The other thing I loved about this novel was the pacing. I had actually planned to read another book before this one, but I picked it up and couldn't put it down. Ani is the type of character who craves action, and it shows in her story. And even though Ani is the only main character who was never fully mortal, she's relatable. She is an outcast from both the faerie and mortal worlds, and we've all been outcasts at one time or another, and we all wish we had someone like Devlin to rescue us from our exile.
Which brings me to another thing I loved about this book – Devlin. He's the kind of character I love. He's in a place that isn't right for him, and yet he doesn't feel like he can leave it. It didn't take me long to figure out the ending, but that was ok, because I was able to spend the rest of the novel yelling at the characters for being so absolutely thick about it!
I would definitely recommend this book to anyone (though I'd recommend they read the rest of the series first) and I cannot wait until Darkest Mercy comes out!