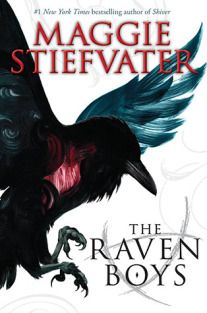 Title: The Raven Boys (Raven Cycle #1)
Author: Maggie Stiefvater
Summary: [from GoodReads]
 "There are only two reasons a non-seer would see a spirit on St. Mark's Eve," Neeve said. "Either you're his true love . . . or you killed him."

It is freezing in the churchyard, even before the dead arrive.

Every year, Blue Sargent stands next to her clairvoyant mother as the soon-to-be dead walk past. Blue herself never sees them—not until this year, when a boy emerges from the dark and speaks directly to her.

His name is Gansey, and Blue soon discovers that he is a rich student at Aglionby, the local private school. Blue has a policy of staying away from Aglionby boys. Known as Raven Boys, they can only mean trouble.

But Blue is drawn to Gansey, in a way she can't entirely explain. He has it all—family money, good looks, devoted friends—but he's looking for much more than that. He is on a quest that has encompassed three other Raven Boys: Adam, the scholarship student who resents all the privilege around him; Ronan, the fierce soul who ranges from anger to despair; and Noah, the taciturn watcher of the four, who notices many things but says very little.

For as long as she can remember, Blue has been warned that she will cause her true love to die. She never thought this would be a problem. But now, as her life becomes caught up in the strange and sinister world of the Raven Boys, she's not so sure anymore.
My Review
Maggie Stiefvater is one of those authors that I have a kind of love/dislike relationship with. Every time I read a synopsis for a book she's written it sounds like the most awesome book every and I am dying to get my hands on it. Then, when I finally do read them I've hyped them up so much that they seem kind of mediocre. I'd been burned a little too often so when it came to The Raven Boys I just kept putting off reading it. I shouldn't have been worried though – finally I found one that lived up to its fullest potential!
One of the big things that was better in this one that was better in this one was pacing. It still took me a little while to get into the book, but it didn't take nearly as long as with, say Scorpio Races. Once I did get into it, it felt like there was always something happening, even when the main point of a passage was the relay of information. The mystery was big and exciting, but it never felt like we were just waiting for the next clue and filling time.
Of course, an easy way into my heart for any book is to use some fairly obscure (aka unknown to me) bit of ancient history, preferably from somewhere in the UK, so I may be a tiny bit biased. In this case, Gansey is looking for the supposedly sleeping body of King Glendower, an ancient Welsh leader. That entire plotline was absolutely fascinating to me – I would speed my way through entire scenes with Blue and her hilariously dysfunctional psychic family so I could find out where the quest was headed next.
I have to admit I was a little surprised, in a good way. This was an incredibly fun Gothic fantasy and I eagerly await the next book!