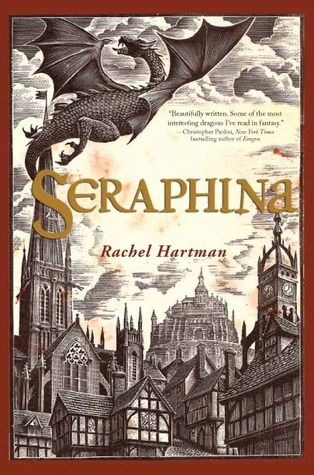 Title: Seraphina (Seraphina #1)
Author: Rachel Hartman
Summary: [from GoodReads]
 Four decades of peace have done little to ease the mistrust between humans and dragons in the kingdom of Goredd. Folding themselves into human shape, dragons attend court as ambassadors, and lend their rational, mathematical minds to universities as scholars and teachers. As the treaty's anniversary draws near, however, tensions are high.

Seraphina Dombegh has reason to fear both sides. An unusually gifted musician, she joins the court just as a member of the royal family is murdered—in suspiciously draconian fashion. Seraphina is drawn into the investigation, partnering with the captain of the Queen's Guard, the dangerously perceptive Prince Lucian Kiggs. While they begin to uncover hints of a sinister plot to destroy the peace, Seraphina struggles to protect her own secret, the secret behind her musical gift, one so terrible that its discovery could mean her very life.
My Review
Honestly, between dragons, epic fantasy and court intrigues, if I hadn't like this book I would have been a little worried there was something wrong with me! But it most definitely lived up to and even exceeded my expectations!
I've lamented many times that there are so few dragons in fantasy right now, but the truth is they're pretty difficult to write. They serve pretty well as a distant villain, since there's all these stories of sacrificing maidens. But at the same time, dragons are famously sentient. Ms. Hartman does a good job of incorporating both sides of dragon nature. By making Seraphina only half dragon, she also makes the dragons much more relatable. It's one of those ideas that is incredibly unique and yet so obvious I wonder why no one has ever tried it before.
The other thing I loved about this one was the vibrant writing style – I really did feel like I was watching a movie instead of reading. I loved that Seraphina was a musician, and the descriptions of her music really brought it to life for me. I was able to vividly imagine the city and all the different types of dragons and half-dragons. I especially loved the little trinkets the lesser dragons made (I don't remember what they were called, sorry!).
And, of course, then there's Lucien Kiggs. He is one of my favorite love interests that I've ever read. He is complex – compassionate but strictly responsible. He has a lot less prejudice than the rest of the characters (or at least it seems like he does). He's happy to work with Seraphina until he finds out she lied to him, and he admires and respects her without seeming chauvinistically surprised about it.
I can unreservedly say that this book has only my highest recommendation – easily one of the top 10 books I've read this year!