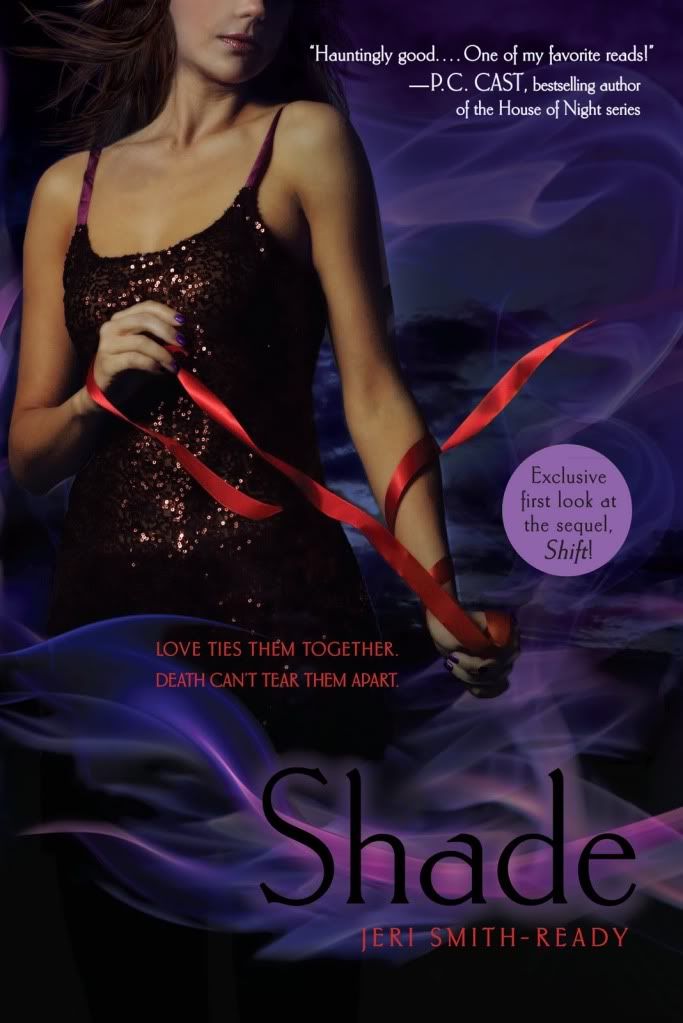 Title: Shade (Shade #1)
Author: Jeri Smith-Ready
Summary: [from GoodReads]
Love ties them together. Death can't tear them apart.

Best. Birthday. Ever. At least, it was supposed to be. With Logan's band playing a critical gig and Aura's plans for an intimate after-party, Aura knows it will be the most memorable night of her boyfriend's life. She never thought it would be his last.

Logan's sudden death leaves Aura devastated. He's gone.

Well, sort of.

Like everyone born after the Shift, Aura can see and hear ghosts. This mysterious ability has always been annoying, and Aura had wanted nothing more than to figure out why the Shift happened so she can undo it. But not with Logan's violet-hued spirit still hanging around. Because dead Logan is almost as real as ever. "Almost."

It doesn't help that Aura's new friend Zachary is so understanding–and so very alive. His support means more to Aura than she cares to admit.

As Aura's relationships with the dead and the living grow ever complicated, so do her feelings for Logan and Zachary. Each holds a piece of Aura's heart…and clues to the secret of the Shift.
Review: A little while ago, when everyone was getting so excited about Shine coming out, I felt like I was the only one who had no clue what the series was even about. That happens to me far more often than I'd like to admit, so I decided to spend my summer fixing that.
Let me first say that the book surprised me in many ways. It follows the pattern of paranormal teen romances, sort of, but I never felt that dreaded "I've read this already!" feeling I sometimes get. I especially liked that the story wasn't all about that one character who is "special" and has to hide it from everyone else. Everyone under the age of 16 or whatever it is, has the same ability Aura does, and they don't even try to hide it from the grown-ups. It puts a different perspective on the paranormal aspect to have it be a common thing, and to have a specific point in time when it became common.
Aura's "love triangle" between Logan and Zachary did bother me a little. I can understand Aura not wanting to get over Logan, but at the same time he IS dead. I kind of wanted her to push him away sooner. I mean, come on, cutie with a hot Scottish accent is waiting! Plus, dating a dead guy is pretty creepy! Maybe having live with them her whole life it's different for Aura, but I would be done the minute he showed up as a ghost.
On the other hand, I'm not too happy about the relationship with Zachary either. I'm getting kind of tired of the hot guy showing up as a love interest and then turning out to know a whole lot more about what's going on than he's telling. Just once I'd like to see the heroine dump him for real, instead of just stomping around in a snit until he apologizes! These are big secrets, girlfriend, and who knows what else he'd be willing to keep from you?!
Problems with the relationships aside, I definitely enjoyed the book and I'll be putting Shift and Shine on my TBR list.