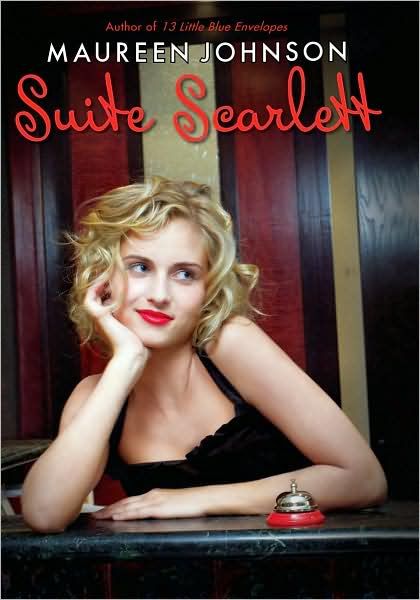 Suite Scarlett
by
Maureen Johnson
Series:
Scarlett #1
Published by
Point
in 2008
Genres:
Chick Lit
,
YA
Pages:
368
Source:
Library
Goodreads
Scarlett Martin has grown up in a most unusual way. Her family owns the Hopewell, a small Art Deco hotel in the heart of New York City.

When each of the Martins turns fifteen, they are expected to take over the care of a suite. For Scarlett's fifteenth birthday, she gets both a room called the Empire Suite and a permanent guest named Mrs. Amberson. Scarlett doesn't quite know what to make of this C-list starlet and world traveler.

And when she meets Eric, an astonishingly gorgeous actor who has just moved to the city, her summer takes a second unexpected turn.

Before the summer is over, Scarlett will have to survive a whirlwind of thievery and romantic missteps. But in the city where anything can happen, she just might be able to pull it off.
My Review:
I picked up Suite Scarlett not really knowing what to expect. I'd only read the 13 Little Blue Envelope series, so far, and I hate to judge an author just based on one book. I'm glad I chose to read it though. You know how sometimes you finish a book and you hate the fact that you finished it because you want more of a good thing? Well if you felt that after 13 Little Blue Envelopes like I did, then Suite Scarlett is definitely for you.

I loved that this book was kind of a variation on Envelopes but with a fresh set of characters and a new interesting story. Eric was more my kind of dreamy than Keith ever was, and I loved the relationships between all the siblings.


My favorite character, though, was the Aunt Peg of this one, Amy Amberson. Mrs. Amberson and Aunt Peg are the kind of woman I want to be when I grow up. They do their own thing, and even though they seem a bit weird and over the top to the rest of the characters, their view on life is so great! I'd love to be like them – but I don't think I could. I'm too much of an orderly, follow-the-rules type. Instead, I'd like to think of Maureen Johnson as my Mrs. Amberson. She inspires me to be more spontaneous, though luckily without the kinds of things that would drive me nuts (like framing me for shoplifting – that would be way over the line for me, I'd refuse to even be around her after that!).


Anyway, bottom line is I really enjoyed this book, and I would definitely recommend it to friends.