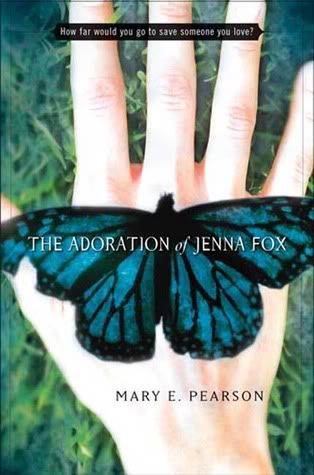 Title: The Adoration of Jenna Fox (Jenna Fox Chronicles #1)
Author: Mary E. Pearson
Summary: [from GoodReads]
Who is Jenna Fox? Seventeen-year-old Jenna has been told that is her name. She has just awoken from a coma, they tell her, and she is still recovering from a terrible accident in which she was involved a year ago. But what happened before that? Jenna doesn't remember her life. Or does she? And are the memories really hers?
My Review
It amazes me sometimes how I can find out that "everybody" loves a book and still not really have the first clue what it's about. It's great – it means I have no pre-conceived notions going in – it just surprises me.
When I first started the book I thought for sure it fell squarely in the Contemporary category, which is usually a one-way trip to my "when I'm in the mood" list instead of "gotta read this!" Eventually it became clear that there was more going on, but that contemporary flavor stayed. And it turned out that was the best part about the book. It's no wonder the book had such a huge following – it appeals to everyone.
The really interesting thing about this one for me is that it deals with such huge relevant issues even though it's in a sci-fi world. We all have wondered who we are underneath. It's interesting to look at the life of a girl who is suddenly without memories, and realize how much our own memories shape us. I wonder who I would be if I couldn't remember the major events in my life. Would I still like to read if I couldn't remember my second grade reading contest? (Probably. My love of reading started before that.) It's worth thinking about.
For such a thinker, this book is also very emotional. The strained relationship between Jenna and her mother reminded me forcefully of the tense moments in my own familial relations. The pressure on Jenna to be the "perfect" daughter she can't remember was so strong it made me feel like I wanted to cry, which is rare while I'm reading.
Whether you're into "issues" books or not, I really think this is a book everyone should read. There is so much we can learn about ourselves by reading this kind of book. It makes you think – the future is not as far away as we think it is.