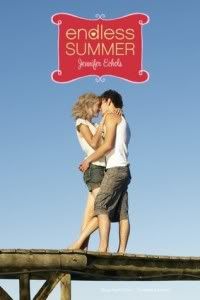 Title: The Boys Next Door (Endless Summer #1)
Author: Jennifer Echols
Summary: [from GoodReads]
Cute, available, and one cabin over….

Lori lives for summertime on the lake. She spends all season wakeboarding, swimming, and hanging with her friends—including the two hotties in the house next door. With the Vader brothers, Lori's always been one of the guys.

But while Lori and the "baby" brother, Adam, are inseparable friends, she can't deny a secret crush on Sean, the older Vader boy. This year Sean's been paying Lori a lot of attention, and not in a brotherly way.

But just as Lori decides to prove to Sean she's girlfriend material, she realizes that her role as girlfriend to Adam may be even more important. And by trying so hard for the perfect summer romance, she could be going way overboard….
My Review:
Talk about the perfect beach read! Light and fluffy, this was just the thing to get my summer "started" (though really, it was already halfway over by then).
The story is set on a lake, really just a summer tourist trap. Lori is working her usual summer job at the marina, but this year she's determined to do what she's always wanted to do for years – catch the eye of the boy next door. Having just spent the day at Put-in-Bay (our closest equivalent) I found this sort of behind-the -scenes look at the people who make sure all those tourist attractions work fascinating. I would love, just for one summer, to work at a touristy place – I've always thought the camaraderie of us vs. them between the employees would be a fun experience!
Then, of course, there's the romance story. I always find these types of contemporary "fluff" romances a little predictable, but that's a good thing. I spend so much time trying to figure out all the other stories that when I pick up a beach read, I don't want that. The Boys Next Door asks nothing of you but to come along for the ride. And boy what a ride it is! For all his faults, Adam is one of those quirky but lovable characters you can't help but fall for. All through the book I was mentally yelling at Lori for blindly insisting on Sean when Adam is clearly the better catch (but, really, if she doesn't want him, send him along to my place!)
In the end, I am really glad I chose to do my "read something by Jennifer Echols" with this book. It wholly satisfied my craving for a good beach read and left me eager to dive into more of Echols' work!
*Version reviewed is part of the Endless Summer omnibus. Review of book 2 coming soon.