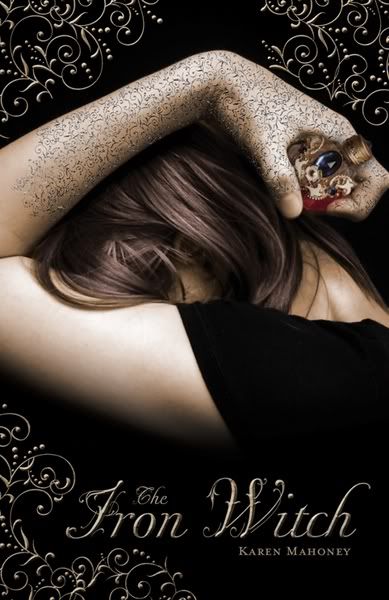 The Iron Witch
by
Karen Mahoney
Series:
Iron Witch #1
Published by
Flux
in 2011
Genres:
Fantasy
,
Steampunk
Pages:
299
Source:
Library
Goodreads
Freak. That's what her classmates call seventeen-year-old Donna Underwood. When she was seven, a horrific fey attack killed her father and drove her mother mad. Donna's own nearly fatal injuries from the assault were fixed by magic—the iron tattoos branding her hands and arms. The child of alchemists, Donna feels cursed by the magical heritage that destroyed her parents and any chance she had for a normal life. The only thing that keeps her sane and grounded is her relationship with her best friend, Navin Sharma.

When the darkest outcasts of Faerie—the vicious wood elves—abduct Navin, Donna finally has to accept her role in the centuries old war between the humans and the fey. Assisted by Xan, a gorgeous half-fey dropout with secrets of his own, Donna races to save her friend—even if it means betraying everything her parents and the alchemist community fought to the death to protect.
My Review:
This is another one that has received rather mixed reviews. I have to say, I loved it! I love the mixture of science (alchemy) and fae, and I love the fairy tale element too! Besides the fact that I loved the feel of the book – I'm a huge fan of paperbacks, and so the fact that it is a paperback, with such a gorgeous cover design was amazing – I love the fact that it's small. The recent trend in YA fiction has been tomes of 400-500 pages, which are nice, but every once in a while, it's good to have something that I know I can finish in a day.  And I love the fact that even though it is a short, fast read she packed a full story in there, somehow.
Usually when I write a review, I try very hard not to take into account what others say, beyond perhaps acknowledging that I am reviewing something that others have a different opinion on. But in this case, I feel the need to defend the book. Many of the reviews I've read have pointed to the lack of explanation as their reason for disliking the book. I will admit, there are places where she could have given us more information. That isn't necessarily a bad thing! I like it when the author doesn't tell me everything because a) it gives me a chance to try and work it out for myself and b) it gives me something to look forward to in the next book. One can love something without knowing very much about it. Take for example Xan. Xan is one of my favorite guys in literature, right up there on my fictional Guilt Free Five. Granted, he has temporary placement there, because when I got to the end of the novel, I realized I know next to nothing about him. He's still awesome, but I want to know more about him, and I sincerely hope (and I'm probably right) that we'll find out more about him in the next book.
My point is give this book a chance. It tells a wonderful story that leaves you with at least a little mystery at the end – and who couldn't do with a little more mystery in their lives?