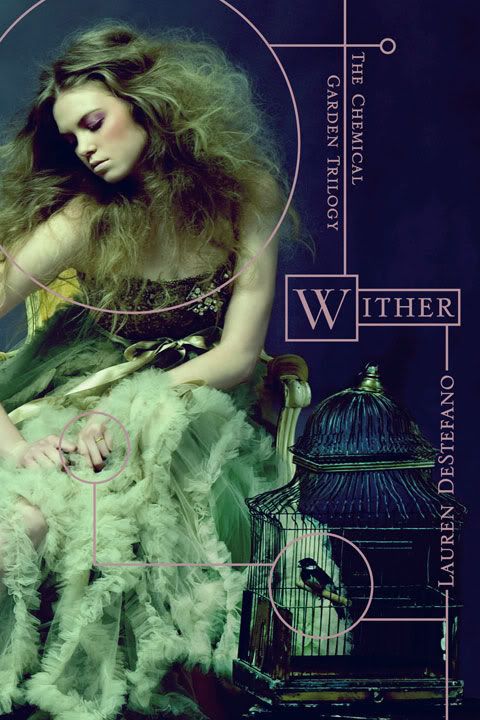 Wither
by
Lauren DeStefano
Series:
Chemical Garden #1
Published by
Simon & Schuster
in 2011
Genres:
Sci Fi
,
YA
Pages:
358
Source:
Library
Goodreads
What if you knew exactly when you would die?

Thanks to modern science, every human being has become a ticking genetic time bomb—males only live to age twenty-five, and females only live to age twenty. In this bleak landscape, young girls are kidnapped and forced into polygamous marriages to keep the population from dying out.

When sixteen-year-old Rhine Ellery is taken by the Gatherers to become a bride, she enters a world of wealth and privilege. Despite her husband Linden's genuine love for her, and a tenuous trust among her sister wives, Rhine has one purpose: to escape—to find her twin brother and go home.

But Rhine has more to contend with than losing her freedom. Linden's eccentric father is bent on finding an antidote to the genetic virus that is getting closer to taking his son, even if it means collecting corpses in order to test his experiments. With the help of Gabriel, a servant Rhine is growing dangerously attracted to, Rhine attempts to break free, in the limited time she has left.
My Review:
More than anything else, Wither reminds me of The Handmaid's Tale. True, it's less graphic and less frightening overall, but Wither seems like what Handmaid's Tale would be if it were a YA novel.


Despite the strangeness of the future setting, Rhine is very normal-seeming. Of course, she's mostly normal in comparison to other dystopian heroines like Katniss from The Hunger Games and Vera from The Water Wars, but these strong-but-reluctant heroines seem to have become the norm. Not that it's a bad thing, though it does make me wonder at the cultural implications. Either way, Rhine reacts to the situation in the same way I'd like to think I would in such an awful setting.


But the thing I liked the most is the way Destefano treated Rhine's husband, the House Master. Even though Rhine was being forced into an unwilling marriage, it was very clear that her husband was not the one to blame. He may have been clueless and guilty by association, but it was very obvious that he should not be considered "the bad guy." The one to watch out for is the Governor. That man is not only evil, he's downright creepy! Here is the real mastermind of all the troubles. Even if he personally didn't create the virus, he is the one you want to blame for everything. He's the perfect villain, keeping me scared and angry and defiant all at once.


Overall, this was a great read. It explored all the ways society would change if we began dying so young and through that it was a wonderful cautionary tale. Let us hope the right people take heed!