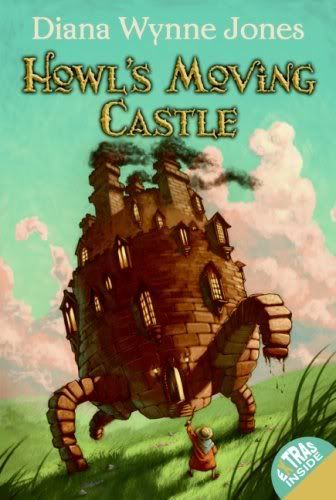 Howl's Moving Castle
by
Diana Wynne Jones
Series:
Castle #1
Published by
Greenwillow
in 2001
Genres:
Fantasy
,
YA
Pages:
336
Source:
Bought
Goodreads
In the land of Ingary, such things as spells, invisible cloaks, and seven-league boots were everyday things. The Witch of the Waste was another matter.
After fifty years of quiet, it was rumored that the Witch was about to terrorize the country again. So when a moving black castle, blowing dark smoke from its four thin turrets, appeared on the horizon, everyone thought it was the Witch. The castle, however, belonged to Wizard Howl, who, it was said, liked to suck the souls of young girls.
The Hatter sisters--Sophie, Lettie, and Martha--and all the other girls were warned not to venture into the streets alone. But that was only the beginning.
In this giant jigsaw puzzle of a fantasy, people and things are never quite what they seem. Destinies are intertwined, identities exchanged, lovers confused. The Witch has placed a spell on Howl. Does the clue to breaking it lie in a famous poem? And what will happen to Sophie Hatter when she enters Howl's castle?
My Review:
I love Diana Wynne Jones. Why? Because every single book or series is different. Sure, there are some I can't stand but that s because she's done everything and I don't like everything. Howl's Moving Castle is a favorite of mine second only to the Chrestomanci series, and I decided to re-read it in honor of her passing away recently. But go read them both, like yesterday, if you haven't. SERIOUSLY!
Since I almost always have trouble with reviewing re-reads without gushing all over myself, I thought I'd do something fun and different today. Though there has been an animated movie made, this book is so good it deserves to be made into a Live Action film, so I decided to share my dream cast. (Keep in mind that the story is set in an alternate UK so I tried to keep it an all British cast)

Howl: This is the first read-through that I've actually been able to cast Howl, he's so difficult and quirky. But, finally, I think I have the perfect choice (at least for me).
Quirky and lovable as the 11th Doctor, I could actually hear Matt Smith saying Howl's lines in my head.
Sophie Hatter:
Emma Thompson is a wonderful actress and I think she could really pull off both young and old versions of Sophie.
Calcifer: (no picture for this one, because it's just about the voice) Either Andy-Lee Potts, known for his roles in Primeval and Syfy's Alice, or David Tennant, known for the title role of Doctor Who (though I prefer his scottish accent for this particular role).
The Witch of the Waste:
For those who have never seen Emilia Fox in anything, she does an AMAZING beautiful bad lady. Look her up in Merlin as Morgause. Pretty, yeah, but so evil!
Lettie Hatter:
I actually haven't seen Holliday Grainger in that much, but I think she's perfect for the gorgeous younger sister Lettie.
Martha Hatter:
And finally, for Sophie's youngest sister Martha, Talulah Riley, known for her roles in Pride and Prejudice and St. Trinian's. It is only too bad that Martha wouldn't show up as much, because Talulah is an amazing actress.
I could go on (Maggie Smith as Mrs. Pentstemmon, don't you think?) but that's the main characters. What are your thoughts on casting?