Have you ever finished a book and said "Man, I wish I could ________ like that?" Bookish Bucket List is a semi-regular feature for the things I've put on my bucket list and the books that made me do so.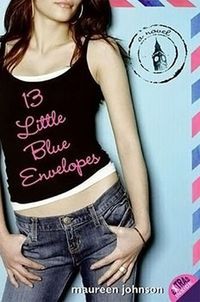 Title: 13 Little Blue Envelopes (Little Blue Envelope #1)
Author: Maureen Johnson
Summary: [from GoodReads]
Inside little blue envelope 1 are $1,000 and instructions to buy a plane ticket.

In envelope 2 are directions to a specific London flat.

The note in envelope 3 tells Ginny: Find a starving artist.

Because of envelope 4, Ginny and a playwright/thief/ bloke-about-town called Keith go to Scotland together, with somewhat disastrous-though utterly romantic-results. But will she ever see him again?

Everything about Ginny will change this summer, and it's all because of the 13 little blue envelopes.
Bucket List Entry: Take a surprise road-trip without planning.
Why:
I love traveling but I'm one of these that always has a meticulous plan of what will happen when. I love the spontaneity of letting someone else plan the trip for you, especially when they do it through letters and puzzles, both of which I love. Plus, interesting things happen when you don't have your time planned down to the minute, right?
(Other books that could apply to this entry: An Abundance of Katherines by John Green, Amy and Roger's Epic Detour by Morgan Matson)
What's on your Bucket List?