Have you ever finished a book and said "Man, I wish I could ________ like that?" Bookish Bucket List is a semi-regular feature for the things I've put on my bucket list and the books that made me do so.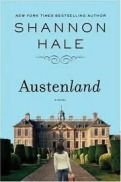 Austenland Goodreads

Jane Hayes is a seemingly normal young New Yorker, but she has a secret. Her obsession with Mr. Darcy, as played by Colin Firth in the BBC adaptation of Pride and Prejudice, is ruining her love life: no real man can compare. But when a wealthy relative bequeaths her a trip to an English resort catering to Austen-crazed women, Jane's fantasies of meeting the perfect Regency-era gentleman suddenly become realer than she ever could have imagined.

Decked out in empire-waist gowns, Jane struggles to master Regency etiquette and flirts with gardeners and gentlemen;or maybe even, she suspects, with the actors who are playing them. It's all a game, Jane knows. And yet the longer she stays, the more her insecurities seem to fall away, and the more she wonders: Is she about to kick the Austen obsession for good, or could all her dreams actually culminate in a Mr. Darcy of her own?
Bucket List Entry:
Participate in a reenactment weekend.
Why: I've always liked to say I was cut out for an earlier time – I love to do all sorts of hand crafting and embroidery that are aggressively NOT COOL anymore – but the truth is, I would miss too many things (like, the INTERNET). So, I've amended my thoughts on it a little and decided that all I really need is a good week or so at a reenactment week. I'd gladly give up cell phones, laptops, internet and all that partly to prove that I could, and partly to wear all those incredibly pretty dresses! PLUS, men knew how to treat a lady back then *fans self*! I'm all for women's rights and all, but a little flattery and manners goes a long way guys! At a reenactment they would all be forced to be gentlemen, and I would totally be okay with that!
What's on your Bucket List?