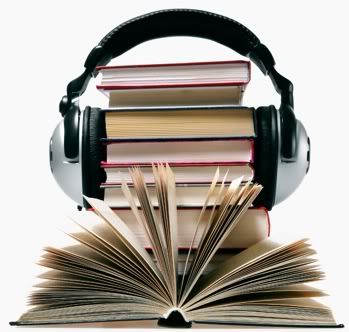 About a week ago, I was working my volunteering job at the library, doing one of the absolute most BORING tasks available (adding spaces to online records from the 90's so that they're more readable, or: *click* *hit space bar* *click* *hit space bar* *click* *hit space bar* *click* *hit head on desk*). Anyway, it was getting to the point where even the music I was playing was too boring to keep my mind occupied. One of the permanent staffers came by, saw my expression, and immediately suggested podcasts. She listed a few that she liked ("This American Life" and "Radiolab") and I looked into them, but they got me thinking – what about podcasts about books? If there were any, then I could be participating in the blogging community and working at the same time!
I did a little research, and tried to find podcasts even remotely related to books. What I found was, honestly, a little disappointing. Most of what I found was Harry Potter – not that I'm dissing Harry Potter or anything, I signed up for Alohomora, and I'm loving the discussions they're having! The others I found were things sponsored by organizations like The New York Times, or CBC Radio – really not what I was looking for. There were a few exceptions, of course.
Books on the Nightstand seems to be a podcast meant to resemble a book blog – they discuss bookish news and events, plug books, and have discussions on things like book snobbery etc. I've listened to a few episodes and while their book tastes and mine are completely different, I like their format and concept.
The Readers is one that I have yet to listen to, so I can't comment directly on their content, but from browsing the site I would definitely say their tastes are more like mine. They also seem to have more of a following among the part of the blogging community I'm aware of – when searching them, a bunch of other blogs came up with posts featuring them. I'll probably try this one soon.
Beyond that Google was coming up with nothing, and even iTunes Podcast directory was stumped. And that made me wonder – why is that?
I think one thing is pretty clear. We as readers are very attached to the printed word. We like to see things on a piece of paper or a screen, and so for us, it's pretty logical to turn to blogging. But, as evidenced from conferences like BEA, and the fact that almost every one of us gives "I needed a place to discuss books" as a reason for blogging, we like to talk about them too. So why aren't there more of us, literally, talking the talk?
This isn't really something I have an answer to. And, maybe my view of it is a little skewed since all my research relied on Google. Are there more podcasts out there that I'm missing? I'd love to know, since I need quite a bit of material to fill up those shifts at the library!
Of course, podcasts aren't the only media out there. Are there other types of media for discussing books that you'd like to see? I know I used to run a vlog to talk about books, but I never found a community there, and I didn't enjoy it as a result. In fact, this blog started as a replacement for the vlog, and if it weren't for the blogging community I might have quit it too. But maybe there's a community there that I just never knew about?
If I were to add other media to enhance my blog, what would you be interested in seeing (i.e. podcast, vlog, etc.)? Would anyone like to do a joint book discussion/review through podcast or vlog?
[Books and the Media is a series I'll be running all month long to discuss different aspects of books in relation to other media types. Check back next Monday for more discussion!]