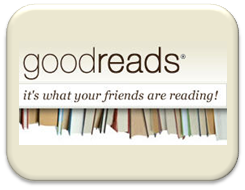 If you've been around the book blogging world for any length of time, you've probably heard of a little site called GoodReads. I've been spending a lot of time there recently, prepping my miles-long TBR list for Amanda's Unbreaking the Shelves challenge, and I realized I was saying the same thing over and over again: "I wish there were a way to…" I know one website can't do everything, but there are a LOT of things I wish were different. Does anyone else feel like that, or is it just me? I know GoodReads isn't going to consult me on their next big redesign, but if they did, I sure know what I'd tell them!
Some things I'd like to see:
Wouldn't it be nice to have a way to mass edit? (If there is and I'm just a huge dunce and missed it, please tell me! It will save me hours I tell you, HOURS!) I must not be the only one who has ever decided to divide up a shelf (say "Classics", divided into "classics want to read" and "classics should read"). If I could have a set of check-boxes to select multiple and then add them ALL to a new shelf it would be so much faster than going through and adding them one by one – and then one by one deleting them from the shelf from before! OR, say for example, you're adding old books by your favorite author to your "read" shelf – wouldn't it be nice if I could select an entire series at once to add, instead of doing it manually? Oh and while you're at it, can we NOT have the "edit your review" box pop up EVERY SINGLE TIME I add something to a shelf? Sometimes I just want to make a minor change, or add something to my To-Read list! (Don't even get me started on the fact that you can publish reviews before ARCs are even available!)
My next request? Multiple read options! I read my favorites over and over and OVER again. I want to be able to reflect that (because you KNOW it was good if I've read it 20 times). I'd also like to know when the last time I read it was, whether my rating was different, whether I actually FINISHED it or just read my favorite parts and how many times I've read it overall.
Since I'm asking for the impossible anyway, any way we could get an auto-publish feature that would allow me to set something on my GoodReads profile auto-publish reviews from my blog? Perhaps this would work better as a plugin, or third-party app like dlvr.it for Twitter. I could set up a template that would take a certain amount (say the first paragraph) of the review, set up a link to bring them back here if they want to read more. I'm certainly MUCH more likely to use that than their built in "publish this review to your blog!" feature!
Some things that need improvement:
Honestly? Inever use the social aspects of GoodReads, and that's what attracted me to the site in the first place. I find the homepage interface far too cluttered and cramped so I hardly ever even look at it. I find my two little buttons on the side (my "what I'm reading now" and the yearly challenge widget) and that's it! If there were options for how to arrange the newsfeed, or a way to make it feel less claustrophobic, I would probably use GoodReads for more than just a place to store my TBR list and to track my yearly goals. (Oh, and on an occasion a resource, if I can't remember some info on a book.)
While we're being picky, can I ask for half stars? I don't like giving out star ratings anyways, because I just know I'm going to read something later that I'll like just a liiiiiiiittle bit better than the one I rated 4 stars but not quite well enough to give it a perfect 5 score, but there won't be any way of rating it differently. I eventually gave up on rating things on my blog, but to "improve GoodReads recommendations" it wants me to rate their books. Besides, if I post reviews there, to show up on anything but the last page of reviews it has to have a rating.
I feel sure I'm forgetting something, but you get the idea. There are so many little, and some not so little, improvements that could be made! There are also a lot of other options for these services – Shelfari, Library Thing and YABC (YA Book Central) come to mind. Of those, I only have an account on YABC, and even that I haven't gone back to in months. Do you have an account with any of these services? Are any of them better than GoodReads?
If book bloggers were to get together and put together their own "facebook for book lovers" what features would you like to see? What features of GoodReads frustrate you? Is there anything you couldn't live without? I can't be the only one!