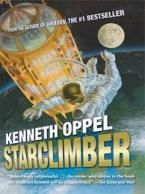 Title: Starclimber (Matt Cruse #3)
Media Type: Audiobook
Author: Kenneth Oppel
Studio: Fullcast Audio
Genre: Sci-fi
Summary: [from GoodReads]
"Mr. Cruse, how high would you like to fly?"

A smile soared across my face.

"As high as I possibly can."

Pilot-in-training Matt Cruse and Kate de Vries, expert on high-altitude life-forms, are invited aboard the Starclimber, a vessel that literally climbs its way into the cosmos. Before they even set foot aboard the ship, catastrophe strikes:

Kate announces she is engaged—and not to Matt.

Despite this bombshell, Matt and Kate embark on their journey into space, but soon the ship is surrounded by strange and unsettling life-forms, and the crew is forced to combat devastating mechanical failure. For Matt, Kate, and the entire crew of the Starclimber, what began as an exciting race to the stars has now turned into a battle to save their lives.
My Review:
This was a really interesting experience for me. I picked Starclimber up looking for something to keep me company on a 4 hour drive over a weekend, without realizing it's actually the third in a series. OOPS! I listened to the majority of it before looking on GoodReads and noticed it was actually part of a series I'd been meaning to read anyway. Oh well!
The nice thing is that I really didn't notice. Sure there were a few references to things I didn't understand, but that happens in books, so I just passed it off as something they would explain later. The characters were all well introduced and fleshed out, and the storyline grabbed me and drew me in immediately. I liked the tension between Matt and his girlfriend Kate, caused by their difference in social class. And I especially loved the steampunk-ish flair. Who would have thought of a spaceship climbing a cable attached to an orbiting rocket?! Probably it's impossible, but the story was so well crafted that I believed every second of it.
I also thought that the reading was very well done. I hadn't listened to a full cast audiobook yet, and I have to say it was a much better experience than some audiobooks I've listened to. It was very easy to tell the difference between each of the characters, because they were all voiced by different people. There were a few with difficult-to-understand accents, but after a while I got used to them and was able to follow the story well enough that it didn't much matter if I missed something.
All in all, I would say that this audiobook made for a very entertaining car trip – I was certainly in a much better mood than I should have been after a bunch of completely stopped traffic on the way there!