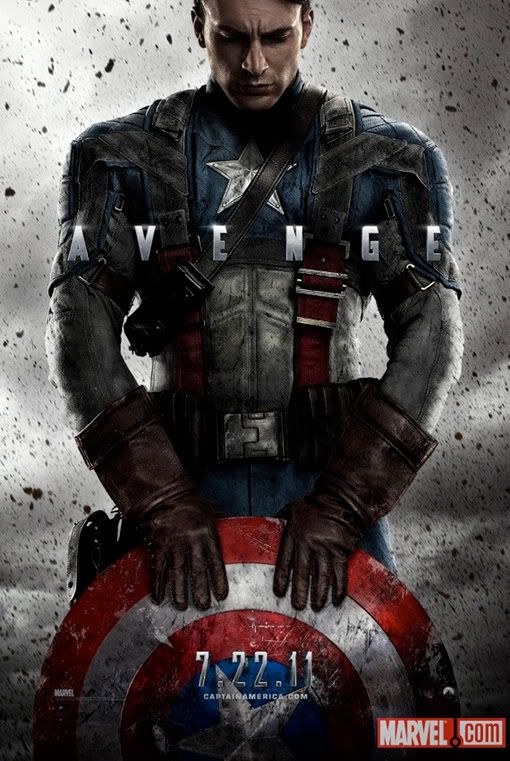 Title: Captain America (The Avengers Collection #5)
Media Type: Feature Film
Director: Joe Johnston
Studio: Marvel Studios
Genre: Superhero
My Review: It's hard to believe that summer is almost over already! I've been waiting for Captain America ever since I saw Thor and realized that they were making a series of these things. I was intrigued by the idea of a period superhero film. It has never been done as far as I know – Superhero films have almost always been made as "current time" even though some were set in that time period originally, they were filmed in that time period.
One thing I really enjoyed is that they did such a good job of keeping to the canon and keeping to the time period. I was expecting the occasional reference to the other Avengers films, but the links were quite frankly ALL OVER this one. I went to the movie with one friend who has seen all the rest of the films and one friend who hasn't, and the one who hasn't laughed at us the whole time because we spent practically the whole movie freaking out about this or that way they connected them up. Captain America is really obviously the prequel, with many previous characters mentioned or actually showing up, and the groundwork laid for so many things that are unexplained in the other films.
I'm not much of an expert on period pieces, so I can't really comment on whether this one was perfectly accurate or not. The thing I enjoyed is that it felt like the atmosphere was accurate. I enjoy period films a lot for their atmosphere and this one felt right, as if it belonged in the time it was set. The film was modern enough to allow for the technology that superheroes are usually called on to fight, but still allowed itself the limitations of the time, which is part of the fun of any period piece.
The plot itself is interesting enough. Someone who had never seen any of the other films would be able to understand this film, and find it enjoyable I think. But the film is that much more enjoyable for all the references to other Marvel films.  While Thor is still my favorite of the Marvel series, Captain America comes in a close second, and I would definitely recommend it.