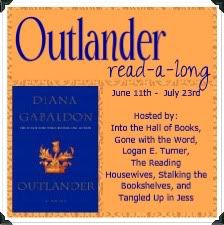 Welcome to week one of the Outlander Read-Along! If you're interested in joining, I think sign ups are still open and you can find them here. To find everyone else's answers and get the new questions for the next section, please visit Shannon and Carrie at Stalking the Bookshelves
1. Outlander is a well-known book. Before you cracked it open, what were your expectations or assumptions about this story? Or did you jump into it with a blank slate?
Actually, and this is kind of embarrassing, I remember my mother reading the book back when I was 10 or 11, and she didn't like it because of the implied adultery. I sort of assumed, being an impressionable youngster, that this was an awful book that promoted doing BAD THINGS, and I should never, ever read it. Of course, then I was fascinated. She had told me a little about the premise and I already really liked the sound of it. Anyway, I never did read it, because I got into other series' and now here we are
2. Claire's husband, Frank, is fascinated with learning more and more facts about his family tree, which extends back pretty far. Do you or anyone in your family keep a family tree? How many years/generations back does it go? If not, have you ever considered or attempted to create one?
There are actually a couple of people on both sides of my family who are, or have been, interested in family trees, so we know back quite a ways. For example, on my dad's side we can almost trace our line back to the Mayflower (we lose about 3 generations in NYC, but the surname is the same on either end, so it's a pretty good guess). Another branch of my dad's family goes back to a Scottish Laird, and even a musician in Queen Victoria's court! Guess music just runs in my blood! My mom's side we don't know quite so far back, but we know a few things – they came through Canada, the majority are from the British Isles somewhere. Pretty sure there's some Liverpudlian in there lol! As I like to tell my British friends, the reason I fit in so well is because I am British, at least by about 95% of my ancestry. (I like to say the rest came from France and Lancelot du Lac, from last name similarities, but I'm totally making that up!)
3. How did you find Claire's initial conclusion as to her surroundings after waking up from going through the stones? Did you think that was a reasonable conclusion?
I'm not sure if it's reasonable or not. I don't know much about the immediate post-war era in Britain – did they make a lot of historical films? Whether they did or not, the human mind has a way of choosing to rationalize just about anything. Even if it was a stupid first thought, I'd believe it's the first one she'd have. She'd be desperate for a logical explanation, and at that point, she hadn't seen much evidence (beyond the clothes anyways) to say that she'd traveled in time.
4. How about her composed, rational way of dealing with the fact she's traveled back in time. Did you find it believable? Do you think you would have acted the same way?
I think what's really interesting about Claire is that the author made her an army nurse. Sure, she's in a situation that's absolutely awful, and she has no clue how to get out of it. But, she has an incredibly utilitarian view of "Do the job in front of me," and that seems to go well with the trauma of having worked in those army hospitals. As for me? Well I really don't know. I tend to do well in stressful situations, but I've never been in one quite that stressful!
5. At this point in the story, what are your feelings or expectations on Claire and Jamie? Is Frank still a factor for you?
I don't have any expectations really based in fact yet. Because I read a lot I can pretty much tell that the author is trying to set them up. The relationship isn't really strong enough for me to say whether I feel they'd be good as a couple yet though – maybe they'll just end up as friends! (Yeah, right, cause that'd make a great novel! *rolls eyes sarcastically*)
Bonus Question: Frank encounters a man outside of the inn where he and Claire are staying. He is afraid it might have been a ghost. What do you believe it was? Do you have any predictions or suspicions on what that was about?
Again, going on predictability of literature, the guy in the kilt is totally going to turn out to be Jaimie or somebody from the past time. I mean, hello! Last episode with the tenth Doctor anyone? lol