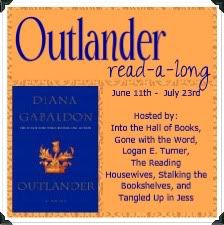 Week two of the Outlander Read-along already! And I'm again reading the pages on the Sunday night before *sigh* what can I say, I'm a procrastinator! You can find this week's participant posts, and the questions for next week here.
1.  Claire has been given the task of healer at the castle. She must adapt her nursing skills for the time and learn what herbs and etc will cure each particular ailment that is presented to her. Do you have any home remedies that were passed down to you (cure for a cold, bee sting or what have you)?
I don't think I do – we do a lot of diy stuff for around the house (I build my own bookshelves, Freezer/TV dinners are practically taboo, we don't turn the A/C on unless absolutely necessary etc.) but remedies not so much. The only thing I can think of off the top of my head is hot tea for a sore throat – my mother always made me orange flavored herbal tea with honey and lemon in it, and to this day I find that drink really comforting.
2. What do you think would be the biggest challenge of living in the past? (Clothing, hygiene, food, etiquette or etc.)
Honestly? The attitude towards women. I always like to think that I would do better in a past time, because there's lots of rules about how to act toward people, and I'm good with rules (well, memorizing them at least). But, at the same time, I would absolutely hate being forced to sit around doing needlework or what have you because I wouldn't be allowed to learn anything, or read too much or any number of other things that I enjoy as well. That said, I do enjoy a lot of things that aren't exactly recent hobbies, and I could hold my own at needlework, so maybe I'd be fine.
3. Do you have a favorite character, scene or quote so far? If so, share it with us.
Nothing sticks in my mind at the moment. I'm starting to like Claire, I guess, because she is so resourceful and adaptable. Oh and I really liked Gailie Duncan! She was fun
But nobody has really made it to the level of favorite yet.
4. What did you think about the addition of the blood bond in the wedding ceremony? Is this something you would do with the one you love?
Here's the thing – I have an irrational fear of pain. It's silly because I am perfectly fine experiencing pain. At age 5 I had to have stitches in my MOUTH because I fell and split open the gums above my front teeth, and the dentist said I was the first patient he'd ever had in for stitches my age that didn't cry. But the idea of pain has me cringing so badly that I can't watch that one scene from Of Mice and Men (you know, the one where Lenny crushes a hand) without turning away and gagging. Therefore, I have to say that I would never agree to such a thing in advance. If they surprised me with it, though, I'd probably be okay with it. I mean, it makes sense in their culture. I'd cringe a bit at the thought of blood-borne illnesses, but that's all.
5. Are you reading along closely with the scheduled chapters or are you ahead or behind?
I am actually 100% up to date and not a single page further! This is mostly because I'm reading other books too, so I set it down last Sunday thinking I'd read a few pages here and there all week. Then it was about, oh, 3 pm on Sunday and I realized I hadn't read them yet. OOPS! That said, considering where we stopped, I may not stay on track very long. It's suddenly getting interesting!