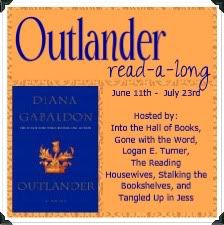 Last week of the Outlander Read-along! While I enjoyed discussing with everyone else, I can honestly say I'm glad I'm done with the book. I probably will not be reading the rest of the series – there were so many things that disappointed me, and while I'm curious about the rest of the storyline, reading the synopsis' of the rest of the books has been enough information for me. You can find the rest of the posts here.
1. Jaime has the worst case of seasickness. Do you get seasickness or motion sickness? If not, is there something else that makes your stomach a bit queasy?



I am very lucky to not have a single bit of motion-sickness! My family goes on road trips a lot, and I love it because I'm able to just sit in the back seat and race my way through several novels. I don't know how I would survive the road trips without being able to read.  As for things that make me queasy – well, blood I suppose. I'm okay with the sight of my own usually, and I'm mostly okay with other peoples blood in real life, but if I have to have blood drawn for anything I invariably almost pass out. I don't particularly like blood in films either because I tend to imagine the pain worse than it actually would be.
2. How did you handle reading the details of Jamie's torture at the hands of Randall? Did you blame Jamie for anything that happened during the encounter with the captain? If you were Claire, how do you think you would have taken hearing about the abuse from your husband? What did you think of Claire's method's to get Jamie to start healing psychologically from his wounds from Randall (when she filled his room with opium and simulated another attack by the Captain)?

I think the torture was sickening, and I wouldn't blame Jamie for a bit of it. I'm unsure how you could blame him… other than blaming him for being captured I guess? I don't know. I'm pretty good about detaching myself from situations, so while I'd have been sad about it, I would also understand his need to tell someone, so I don't think I'd have a problem hearing about the abuse. Since I don't have any training in psychology, I just sort of assumed her method was the logical one. Those of you who do know, is there something wrong with that?
3. This cover:

"history, warfare, medicine, sex, violence, spirituality, honor, betrayal, vengeance, hope and despair, relationships, the building and destruction of families and societies, time travel, moral ambiguity, swords, herbs, horses, gambling (with cards, dice, and lives), voyages of daring, journeys of both body and soul…you know the usual stuff of literature."

Which of the above elements of Outlander were you most looking forward to? Which did you enjoy the most while reading? Which did you enjoy the least while reading? Which did you just not care about? Any of these do you which there were more of? Or less of?
I was actually most looking forward to the time travel part and I was highly disappointed that it wasn't dealt with better! I love time travel stories, and in this one it was pretty much just a device to start off the story! I enjoyed the exploration of relationships and learning more about that time period in history. I didn't realize how primitive life still was in Scotland – it read to me like a medieval piece, when it was actually in the mid-1700's. Enjoy least? Um, well, I'm not sure. There wasn't anything I particularly disliked, or liked really well for that matter. The book was sort of ho-hum for me, I didn't feel strongly either way. I don't really want to sound like a prude, but the sex got a little gratuitous for me – I don't mind sex scenes, as long as they have a purpose and after a while it felt a little like "oh everything else is getting boring, let's put in a sex scene!" They were all… um… well-written, and enjoyable to read. I just felt a little dirty like I was reading porn, because some of them just didn't have a purpose that I could see.
4. Share with us your overall thoughts on Outlander by Diana Gabaldon. Your favorite quotes, scenes, and/or your favorite words that had you searching for a dictionary. If you haven't been marking your favorite quotes/passages, you can find Outlander quotes on Goodreads.
As I said in the last question, I didn't have any strong feelings either way. I did rather enjoy the monk quote – "I said I was a virgin, not a monk" from Jamie. Nothing else really stuck out to me. Even reading through the Outlander quotes on GoodReads (I don't generally save quotes from books I read) nothing jumped at me.
5. Are you going to continue with the series or are you done after Outlander? For those of us who are new readers of this series, any predictions? Do you think participating in the read-along helped or hindered your experience with the story? For those of you who've already read Outlander and books beyond, how much did you enjoy (or not enjoy) this re-read?
Probably not. I just didn't enjoy it the way I thought I would, and I feel like the ending was good enough to be the end of the series for me. Unfortunately that means I don't have any predictions either – I usually only have predictions when I really am interested in what happens next, and surprisingly enough, I'm not. I think participating in the read-along was good for me, though, because otherwise I might not have finished the book – not because I disliked it but because I would just set it down one day and not ever pick it back up.
I hate to be so negative about the book, because I know there are some of you that really loved it! It just fell flat for me, maybe because of high-expectations, maybe just because it wasn't what I'm used to. Heck, maybe it's because I just wasn't in the mood! But whatever it was, I am glad I read it, because now I know my opinion of it, and I can honestly say I've tried it.
Thanks to all the hosts for organizing, and hope to see you all around!