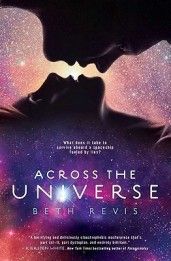 Across the Universe
by
Beth Revis
Series:
Across the Univers #1
Published by
Razorbill
in 2011
Genres:
Steampunk
Pages:
398
Source:
Library
Goodreads
A love out of time. A spaceship built of secrets and murder. Seventeen-year-old Amy joins her parents as frozen cargo aboard the vast spaceship Godspeed and expects to awaken on a new planet, three hundred years in the future. Never could she have known that her frozen slumber would come to an end fifty years too soon and that she would be thrust into the brave new world of a spaceship that lives by its own rules.
Amy quickly realizes that her awakening was no mere computer malfunction. Someone-one of the few thousand inhabitants of the spaceship-tried to kill her. And if Amy doesn't do something soon, her parents will be next.
Now Amy must race to unlock Godspeed's hidden secrets. But out of her list of murder suspects, there's only one who matters: Elder, the future leader of the ship and the love she could never have seen coming.
My Review:
One of the main things that impressed me with this novel is the originality of the setting. Many people in science fiction have played with the idea of cryogenic freezing to get to a new planet that is several centuries of travel away, but most only mention that it happened. They don't tend to go into detail of how it works and what happens. They almost never talk about what happens on the ship while the majority of its occupants are frozen. Revis builds a whole society in this gap, one that is necessary and extremely interesting in the conundrums it creates.
When I first started reading this one, I spent the majority of the time thinking of Doctor Who (and I wonder if she took any inspiration from the show, though I doubt it, as it was probably finished way before the most recent series started). Between a main character with long red hair called Amy and the cryo floor (which will always have a fog at ground level for me) it almost could have been a Doctor Who remake (without the Doctor, of course, which helped when I had to force myself to stop thinking in those terms).
Once I got past the Doctor Who similarities, though, it was a very enjoyable read. The book is part mystery, which adds another fun layer to the story. The thing I really enjoy about mysteries is trying to figure out who did it before the book tells you. I will say, I had "who" figured out by about halfway through, but I had to keep reading, because I had no idea about motive. Plus, the mystery was not the only storyline in the book, and there were other interesting things that deserved my attention!
Even having figured out the "whodunit" part of the book early on, there were some very good twists in the story right at the end that I didn't see coming. They were the of the sort that I said afterwards "Why the heck didn't I see that one coming?!" which is, of course, the best kind. I was glad to find that I could still be on the same side after the twist though – sometimes twists make me go "I hated you, but now I feel really awful for it," and that can be good in some novels, but in this one I really didn't want to feel sorry for Eldest. He is just too much of a jerk!

My only complaint (and it's not really a complaint at all) is that the ending seemed to happen really fast. Elder tells Amy the truth, and then she's mad for all of two pages, and then the story is over. I know if it were me, I would stay mad way longer than that! No matter what his intentions were, he screwed up her life MAJORLY. He can be sorry all he likes, but sorry won't change that. It seems really weird that she's only mad at him for a few seconds. On the other hand, I can understand why she did it – it's not a really relevant plot point, and it happens after the main climax of the book, so it could have the potential of making the book seem to go on forever.  I think if it were me (and what do I know about writing? She's published, not me) I would have shown that time passed in some way – just a short line that said something like "One week later" or something like that. But that's just me.
**END SPOILER**
Overall assessment? A really fun read, with a fresh take on the Science Fiction quest
, and a little bit of every genre for whatever strikes your fancy! Go read it!