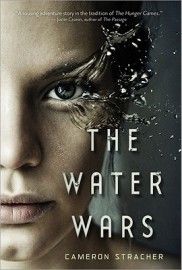 The Water Wars
by
Cameron Stracher
Published by
Sourcebooks Fire
in 2011
Genres:
Sci Fi
,
YA
Pages:
240
Source:
Library
Goodreads
Welcome to a future where water is more precious than gold or oil—and worth killing for

Vera and her brother, Will, live in the shadow of the Great Panic, in a country that has collapsed from environmental catastrophe. Water is hoarded by governments, rivers are dammed, and clouds are sucked from the sky. But then Vera befriends Kai, who seems to have limitless access to fresh water. When Kai suddenly disappears, Vera and Will set off on a dangerous journey in search of him-pursued by pirates, a paramilitary group, and greedy corporations. Timely and eerily familiar, acclaimed author Cameron Stracher makes a stunning YA debut that's impossible to forget.
My Review:
The Water Wars is most definitely a thinker! The world Vera lives in is well crafted and vivid, and scarily realistic. As the summary says, water is scarce. Vera is only allowed to drink at meals and even then  it's only a few sips, because water is so precious. The day I started this one, I sat down to dinner, my favorite kind of soup, and suddenly it hit me – what would we do if we ran out of water, or almost did, like in Vera's world? There are so many things we do with water – take showers, flush toilets, clean our houses, swim, cook meals (no more special Ham and Bean soup!) – not having it is something I have difficulty imagining. I remember discussing in my Global Health class how much water we use per day. We were asked to guess how much water we used in a day, and one girl said 3 gallons. Our teacher laughed, and said "Well, no showers, no toilet and no cooking then." We use just under a gallon each time we flush (though that keeps going down with the new green toilets) and a shower uses a gallon per minute! With that in mind, Stracher brings up a valid point – we waste so much, what will we do when it's gone? What's worse is the part I didn't even think about: all that water in the Polar Ice caps may be fresh now, but if they melt it will just go straight into the sea, and the majority of it will become salt.
This book is the perfect way to get into the topics of global warming and environmental issues, especially for someone who doesn't keep on top of them. I think everyone should read it just to get them thinking about these issues – the way we're using our resources, they'll be gone before we know it. We need to start thinking now about what we'll do when they're gone, or we'll end up in the situation this book puts forth.